Our family loves playing board games and we often share them on Instagram stories. And over the years, we've gotten requests to do a post of our favorites with a quick rundown of each one (like the cliff notes version of each game). We currently have about 30 in our game cabinet, covering a pretty wide variety: card games, party games, dice games, puzzle games, and more. We love games that are as fun for grown-ups as they are for kids (ours are 13 and 9), so with the exception of a couple of adults-only versions that we've clearly labeled, everything linked in this post is great for the whole family.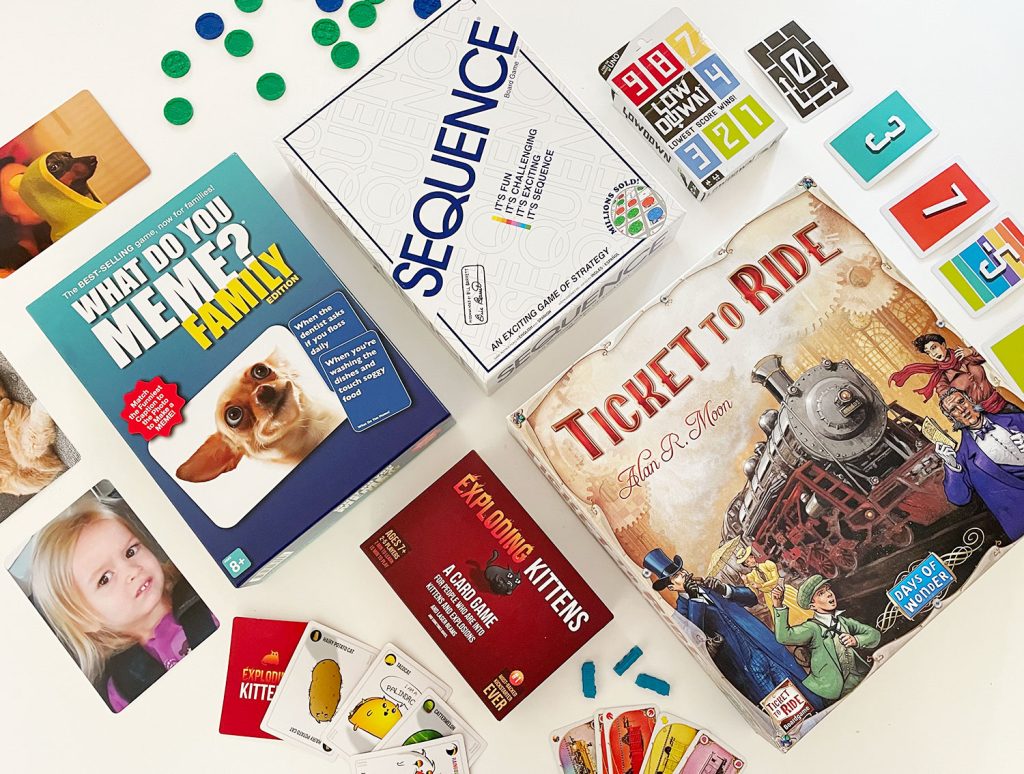 I've categorized our games into the groups you see below. But be warned – there's definitely lots of overlap!
Our All-Time Favorite Go-To Games
Our Favorite Group Or Party Games
Our Favorite 4-Person Games
Our Favorite 2-Person Games
Our Favorite Fast-Paced Games
Our Favorite Chill Games
Our Favorite Easy-To-Learn Games
Our Favorite Small Or Travel Games
I've included a brief description of each game, but to avoid repeating them every time a game appears in a list, you may need to scroll to a different category to find the summary.
What We Look For In A Game
Since we typically seek out games that can be enjoyed *equally* by both kids and grown-ups, now that our kids are 9 and 13, we've moved beyond a lot of the kid-specific games we used to own (this Geography Bingo is our main holdover). We tend to like fun fast-paced games sometimes and others that take a bit longer and might require a bit of strategy – so consider this a wide variety. And again, we only own about 30 games total – and they all fit in the cabinet pictured below! So you definitely can have a diverse collection of board games without dedicating an entire closet or bookshelf to them.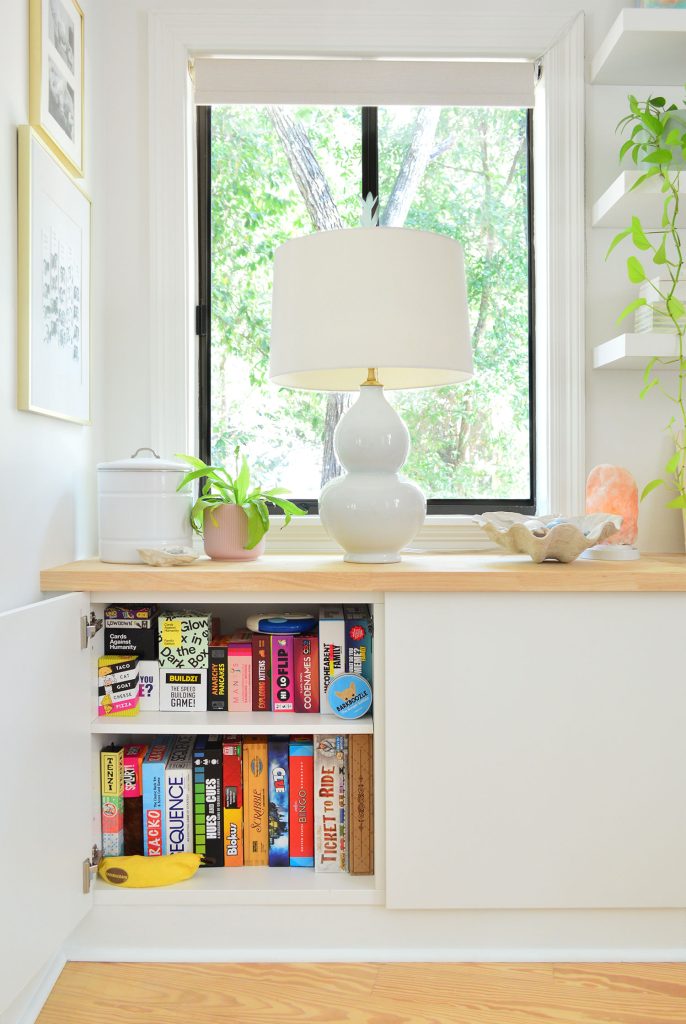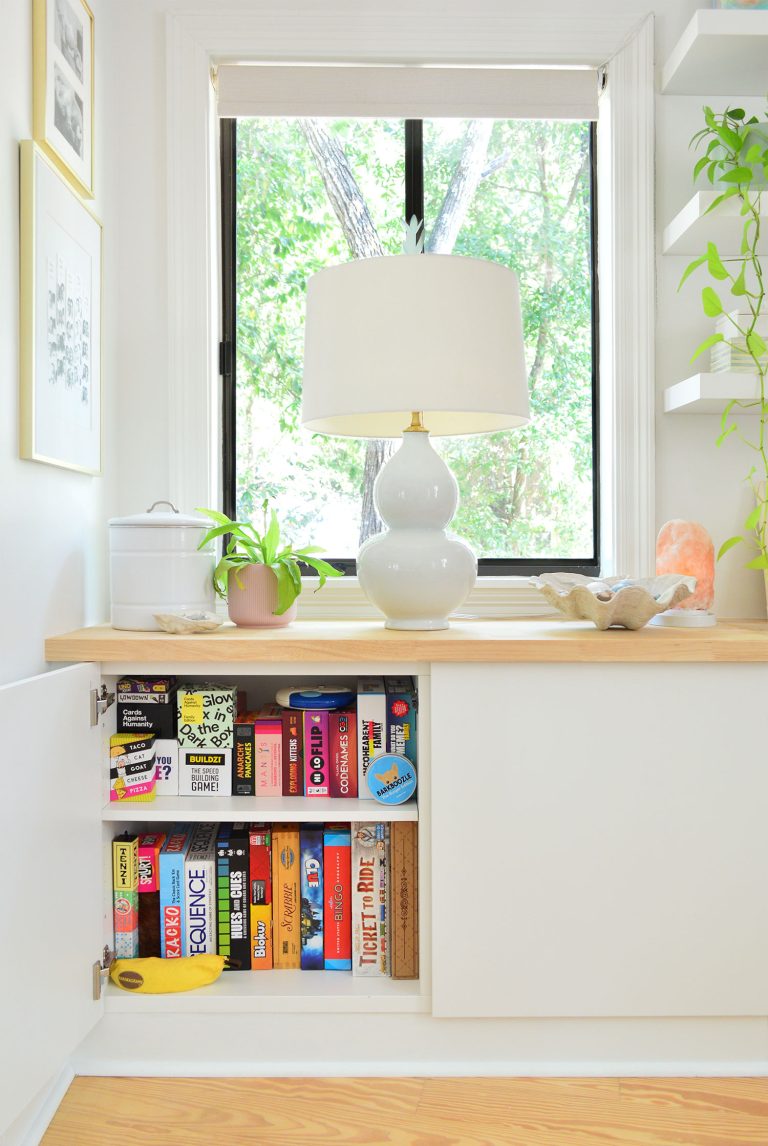 Our All-Time Favorite Go-To Games
These are the games we keep coming back to again and again. Most are things we've owned for several years and all still enjoy (one family member who's not into a game is all it takes to sink a game's rotation). So if you're looking to add something to your collection, I'd start here knowing that these are crowd-pleasers that all four of us love and reach for often: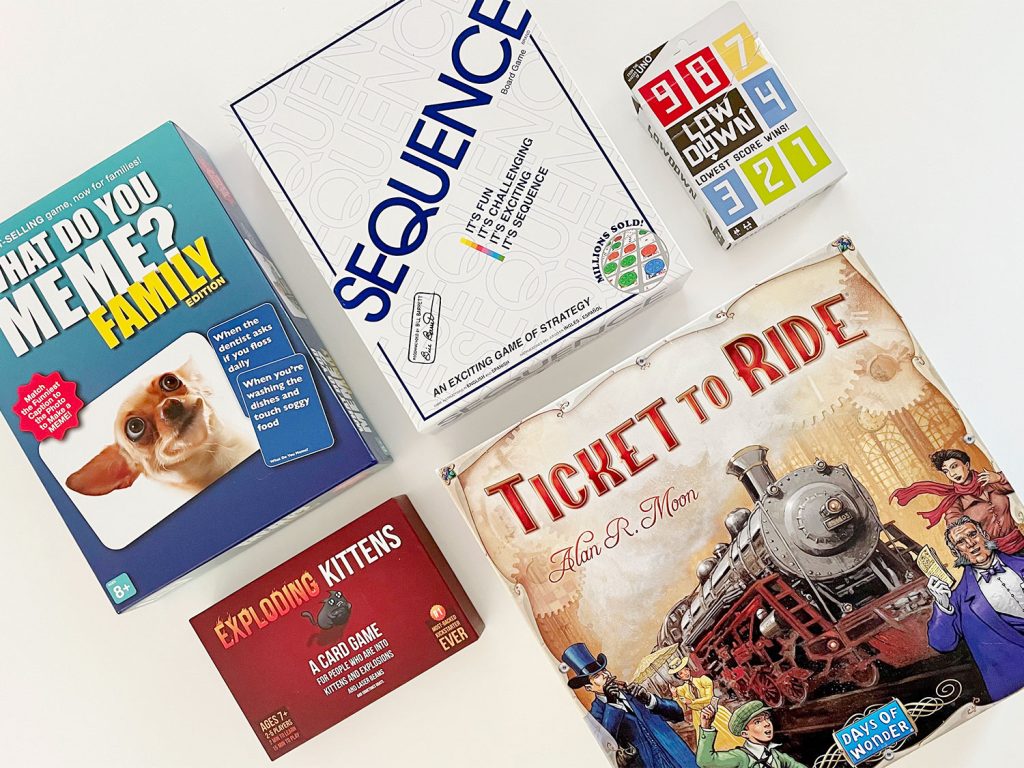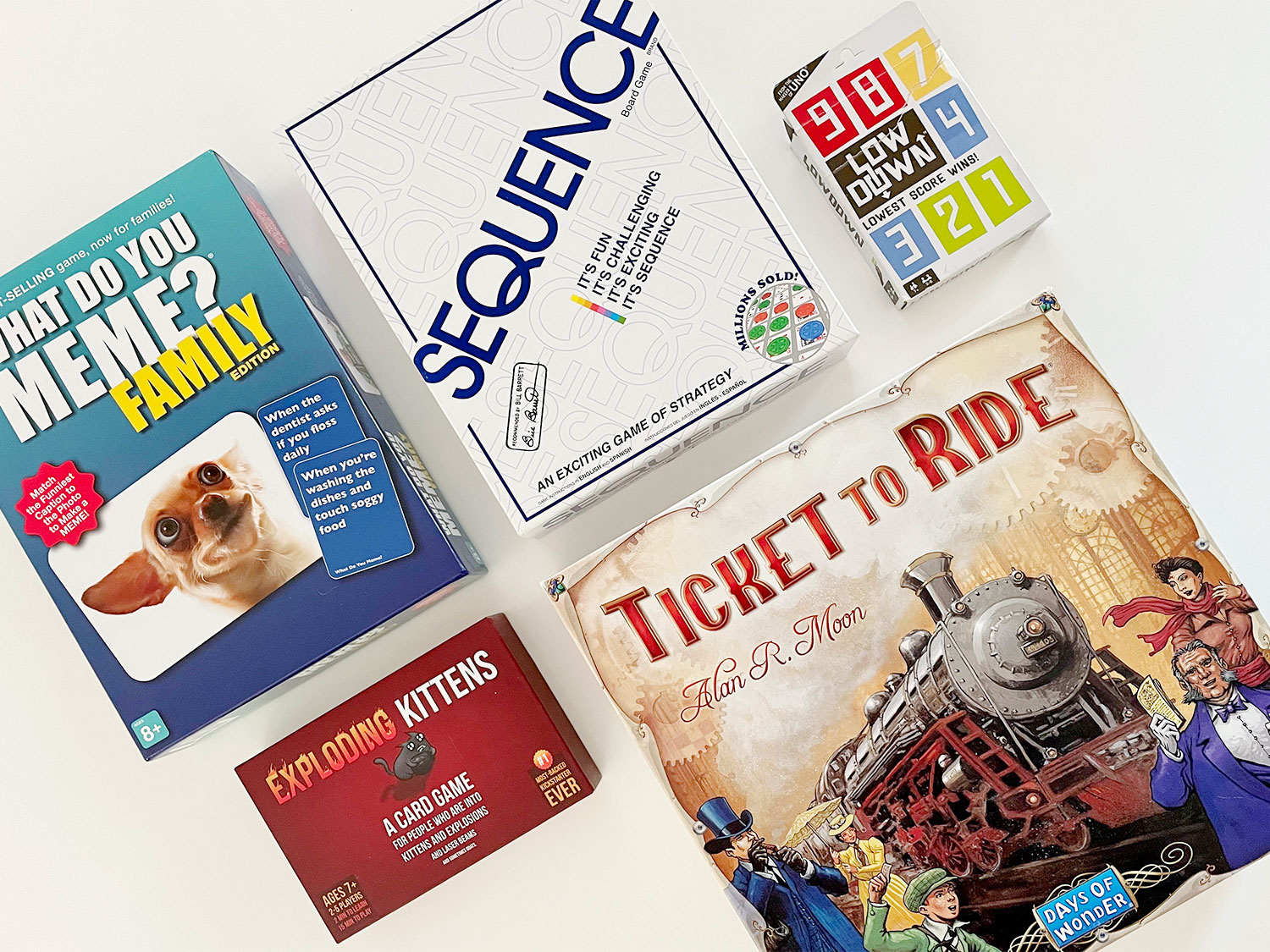 Exploding Kittens
Exploding Kittens is a comical cat-filled card game that's easy to learn and fun for 2 or more players. Use your funny illustrated cards to sabotage other players, trying to force them to pull an exploding kitten card from the deck. Use powers like "Awaken the Bear-O-Dactyl" and "Ask The All-Seeing Goat Wizard" to skip, reverse, and trick your opponents along the way. There are several expansion packs too (we own this one) that add new twists to the game.
Ticket To Ride
Ticket To Ride is perhaps the most complex, time-intensive, and expensive game on this list, but don't let that dissuade you. It's one of our all-time favorites for a reason! You draw "train cards" to complete railroads across the country, trying to connect the highest-scoring routes between cities. This is another game with TONS of versions, but we've been giant fans of the original version for years.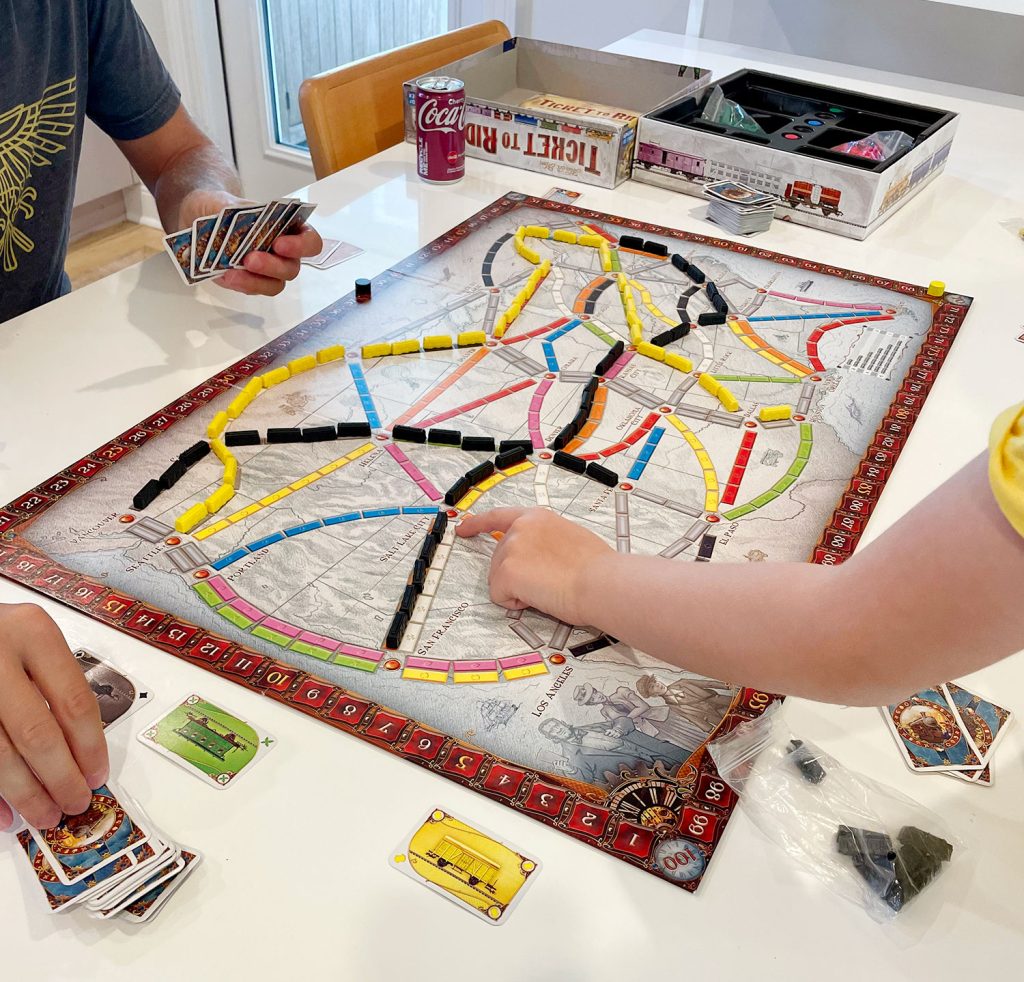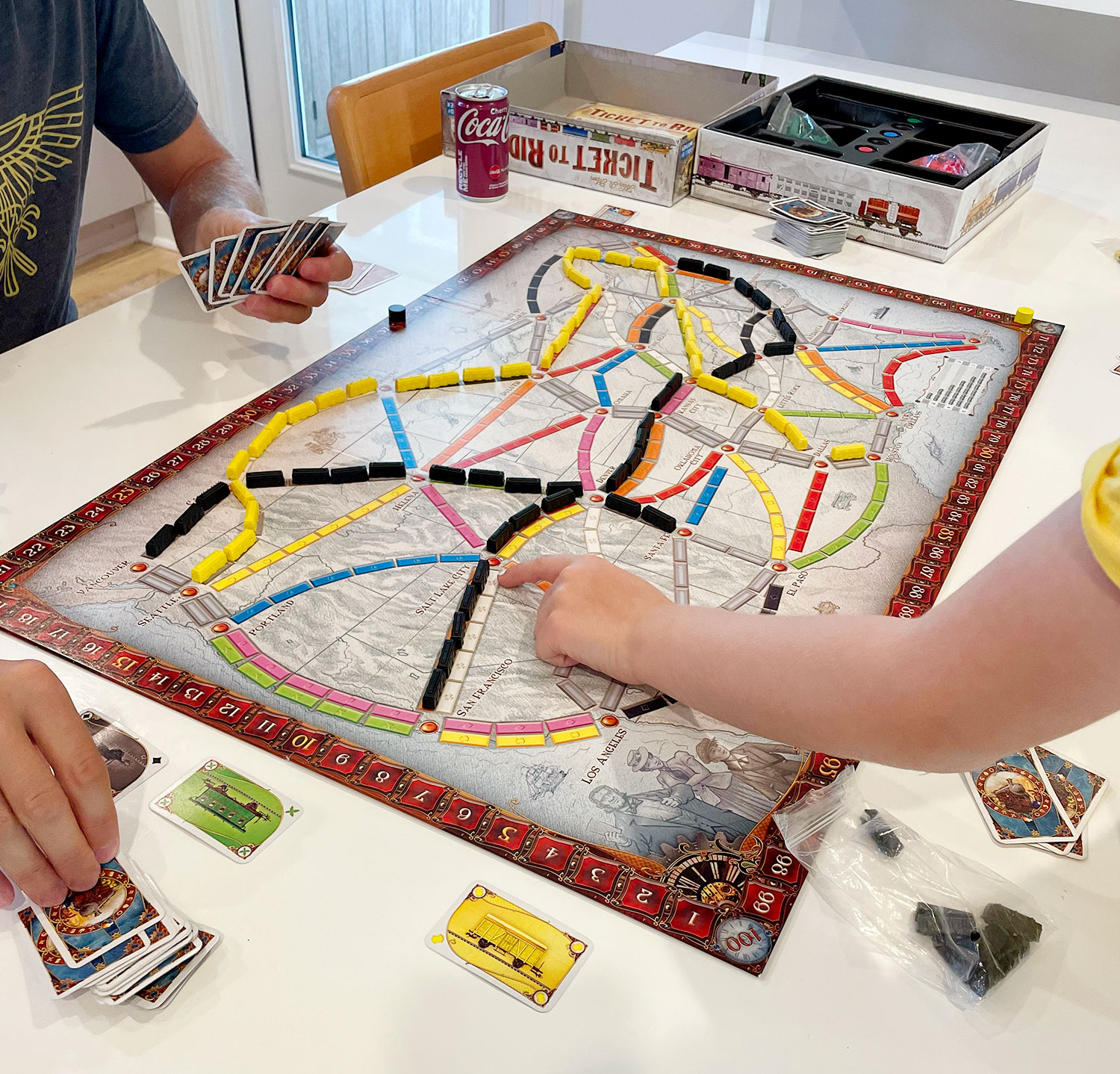 Low Down
I hesitate to include Low Down because it's no longer sold as a card game (there is a dice version, but we've not played it) but just had to put it in here because we play it often and love it. Maybe you can find it secondhand on eBay? Each player is dealt a 3×3 grid of numbered cards and the goal is to have the lowest total by the end of the round. The challenge? The cards start facedown so neither you nor your opponents know which are high and which are low. There are some fun sabotage and poker-facing elements that make this a game that our kids are constantly reaching for.
Our Favorite Group or Party Games
Whenever we have friends or family over, these are the games that are consistent crowd-pleasers. We play all of these just as a family too, but they're extra fun with more people In the mix.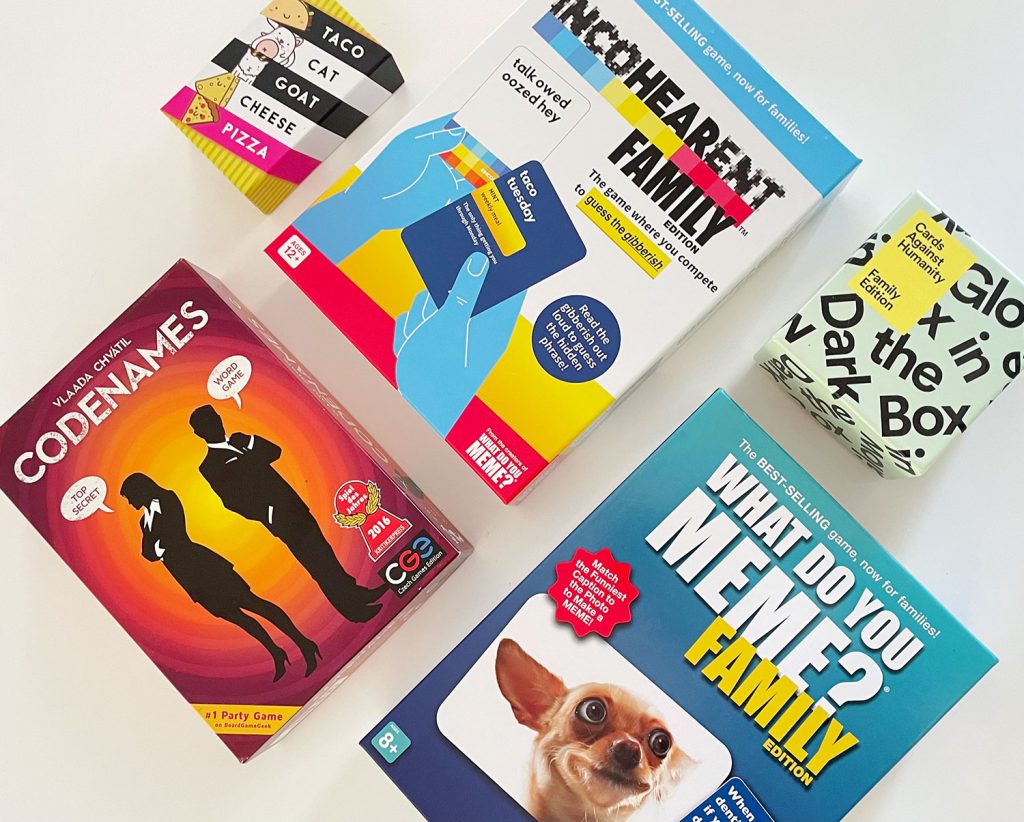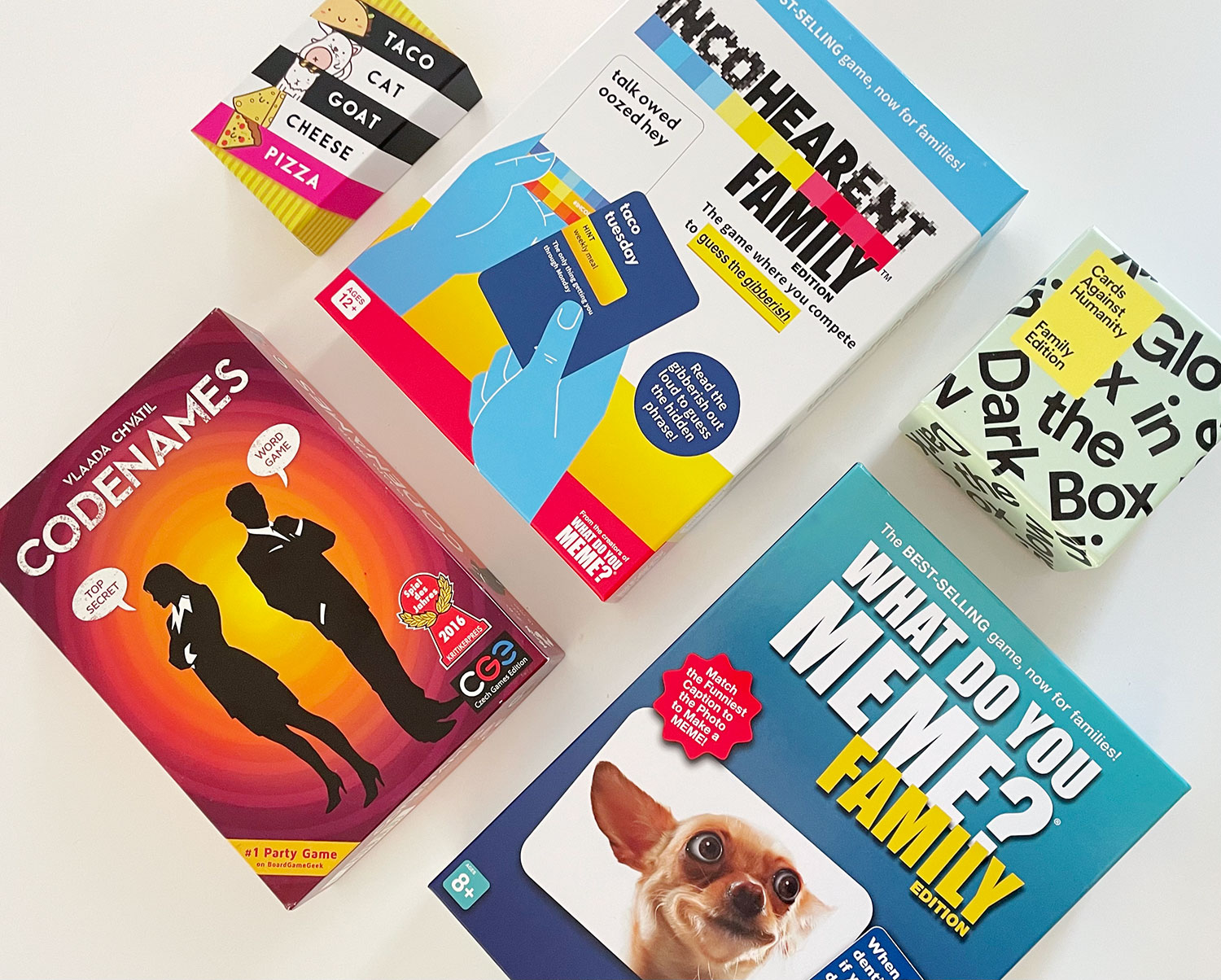 Incohearant Family
Incohearant Family is a straightforward game where you're simply trying to figure out what the heck you're saying. Each card features a nonsensical phrase (like "So Wheat Sicks Dean") that, when read aloud, sounds more like "Sweet Sixteen." It can be played with up to 20 people and is surprisingly hilarious. We STILL talk about how our nephew was convinced one card said "Who pooped right there?" The correct answer: Uber Driver.
Cards Against Humanity (Family Edition)
If you've ever played Apples-To-Apples, Cards Against Humanity (Family Edition) is the same concept but with more, um, potty humor. Players anonymously submit a white card from their hand, trying to fill in the blank on the judge's black card in the best / funniest / most appropriate (or inappropriate) way. The family version swaps the original adults-only Cards Against Humanity for… well, see for yourself below. We bought this Glow-In-The-Dark expansion pack to start with (having played most of the original deck with another family) and our kids have used their own money to buy some $5 expansion packs like this and this.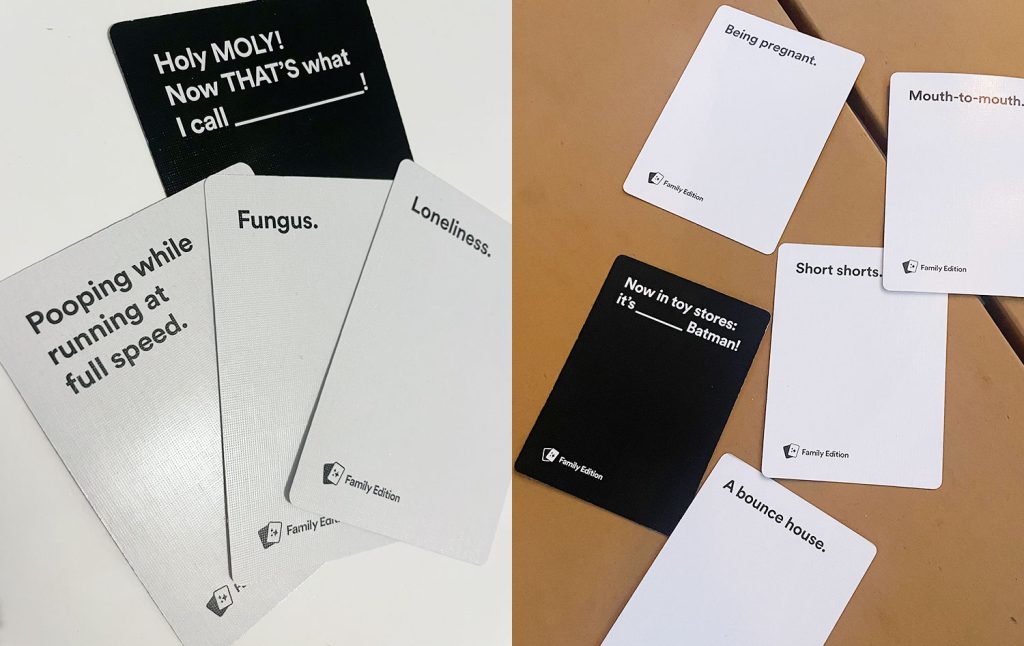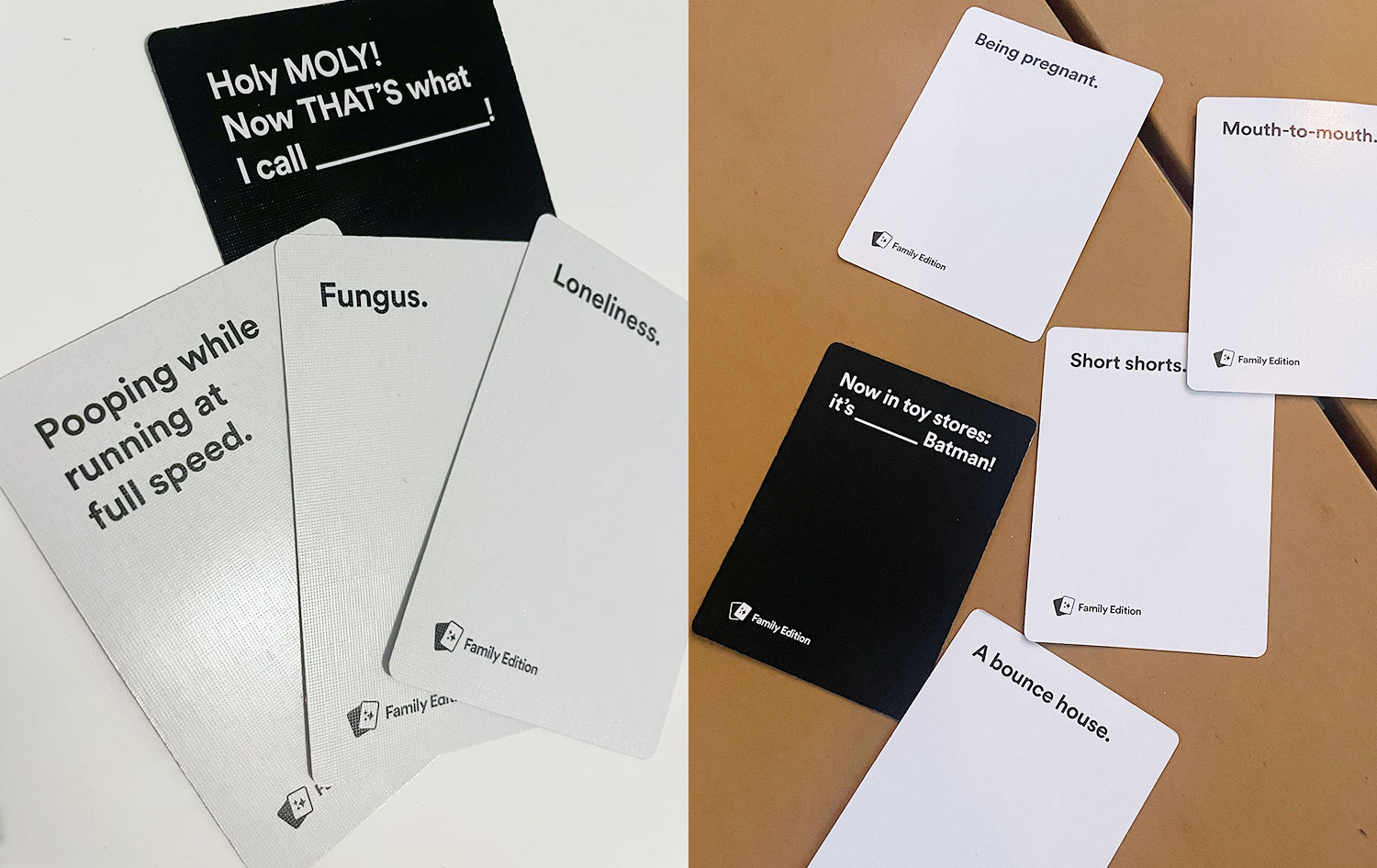 What Do You Meme? (Family Edition)
What Do You Meme? (Family Edition) is the exact same concept as above, but the judge's cards are photo memes that the players are trying to match with their cards. We first owned the grown-up NSFW version, and immediately got the Family Edition as soon as it was released. It's a great option if you want something funnier than Apples-To-Apples but without as much "adult content" as Cards Against Humanity.
TIP: Because these three games are usually more fun with more cards involved, we sometimes introduce an extra player that we've dubbed "The Computer" (like how you can play against the computer during video games). This means that each round we throw in an extra card from the draw pile for the judge to consider. Sometimes it's hilariously off base, but it wins more often than you'd think! In a recent game we played, the computer won 9 rounds in a row. We couldn't believe how perfect the randomly drawn cards were for each scenario. This little twist just adds to the fun, especially when you only have 3 or 4 players.
Our Favorite 4-Person Games
Whenever all four of us are available for a family game night, these are games we love because they're easily played with 4 people (or 2 teams of 2 people).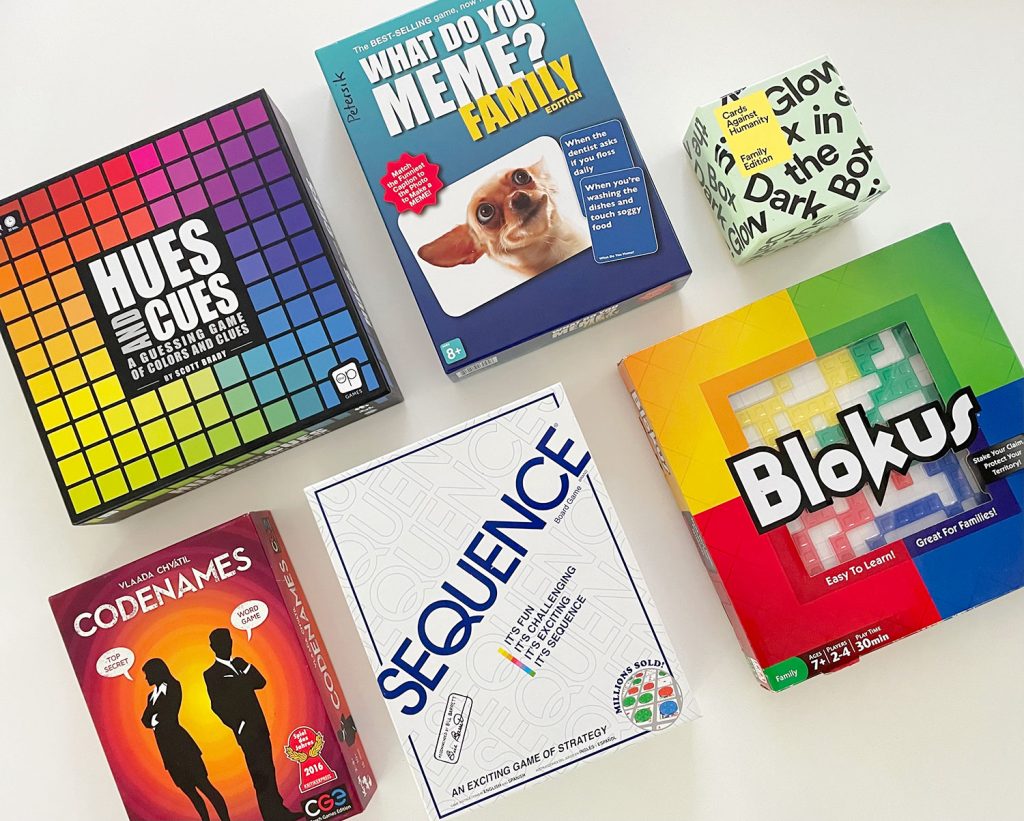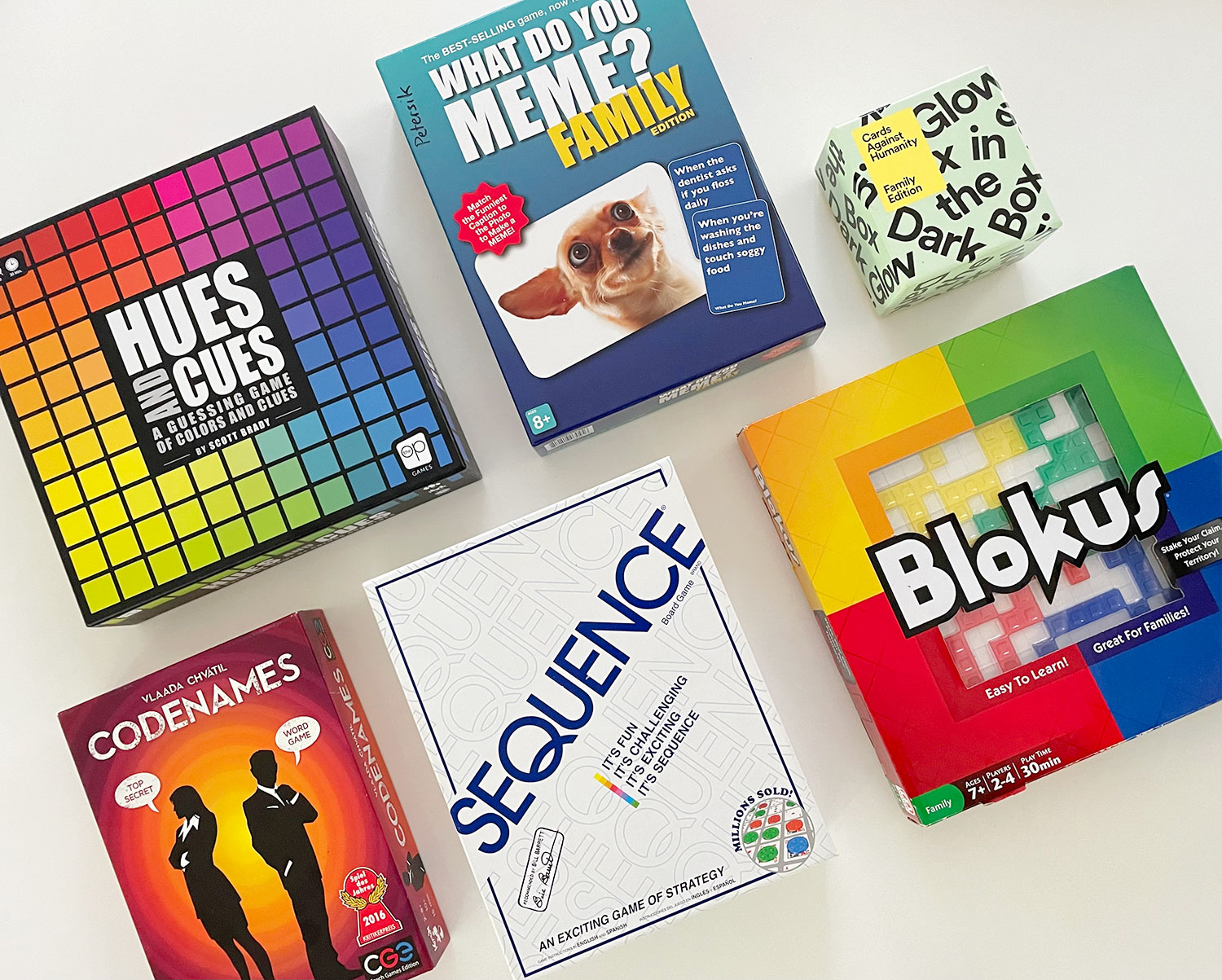 Blokus
Blokus is like competitive Tetris. You're trying to fit as many of your pieces on the board while blocking out your opponent's available space so they can't fit as many of theirs. The game is played in turns and the only rule is that each new piece must touch 1 or more *corners* of your existing pieces (no edges!). It's a simple concept that becomes surprisingly strategic as the board fills up. This game is fun to add to the mix because sometimes certain people who win a ton of strategy games (like Ticket To Ride) don't thrive as much at a visual game like this, and others dominate. It's really fun for mixing things up and discovering who thinks this way.
Sequence
Sequence is kind of like Connect-4 meets Bingo. You're simply trying to get 5-in-a-row on a shared game board before your opponents do. It can be played with 2 or 3 players, but our favorite version is when 2 teams of 2 go head-to-head. We have the original version but there are plenty of variations too.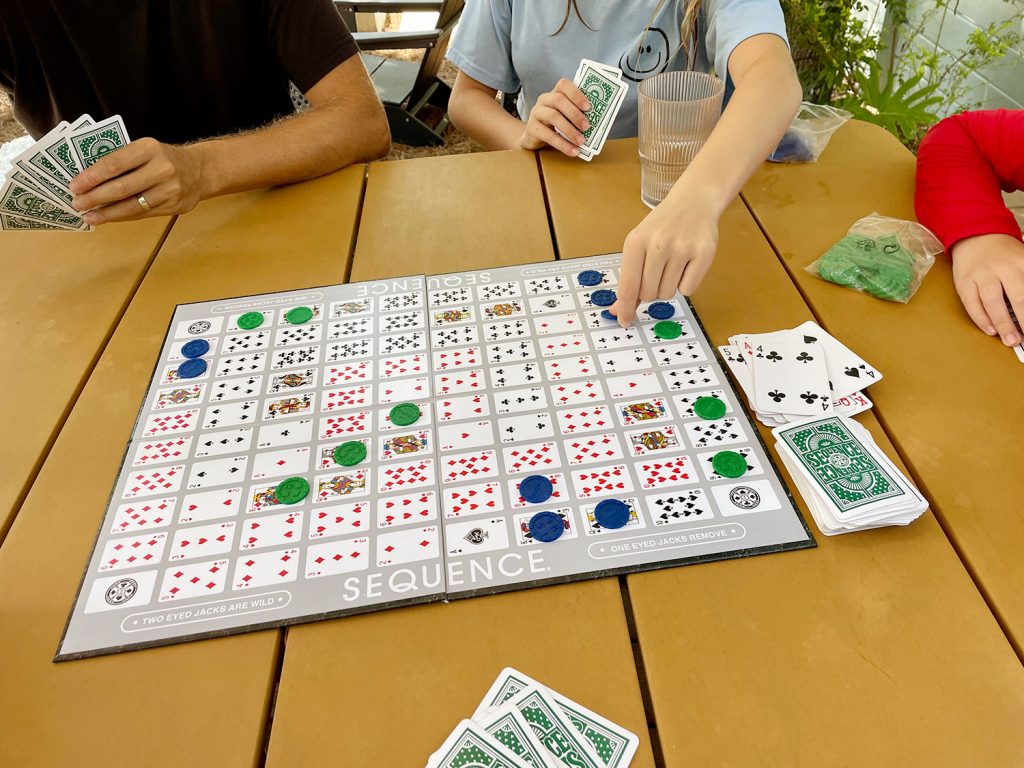 Codenames
Codenames is a challenging game where two teams are working from the same array of cards, each containing a random word. A color-coded key card assigns certain words to each team. Using single-word clues, your goal is to get your teammate(s) to guess all of your words before your opponents get theirs. There is skill involved in giving clues that relate to multiple words at once, without accidentally steering them toward picking words that belong to your enemy.
Hues And Cues
Hues and Cues is another guessing game where you use single or double-word clues to help other players find your secret color from a beautiful gradient game board. You earn points based on how closely they guess. It seems easy, but you quickly learn there are wide interpretations for clues like "strawberry" – which could be anything from deep red to a rich pink.
Our Favorite 2-Person or 3-Person Games
When the whole family can't play a game, these are some great options that we pull out often. All of them can accommodate several more players, but they're just as fun when it's just two or three of us playing.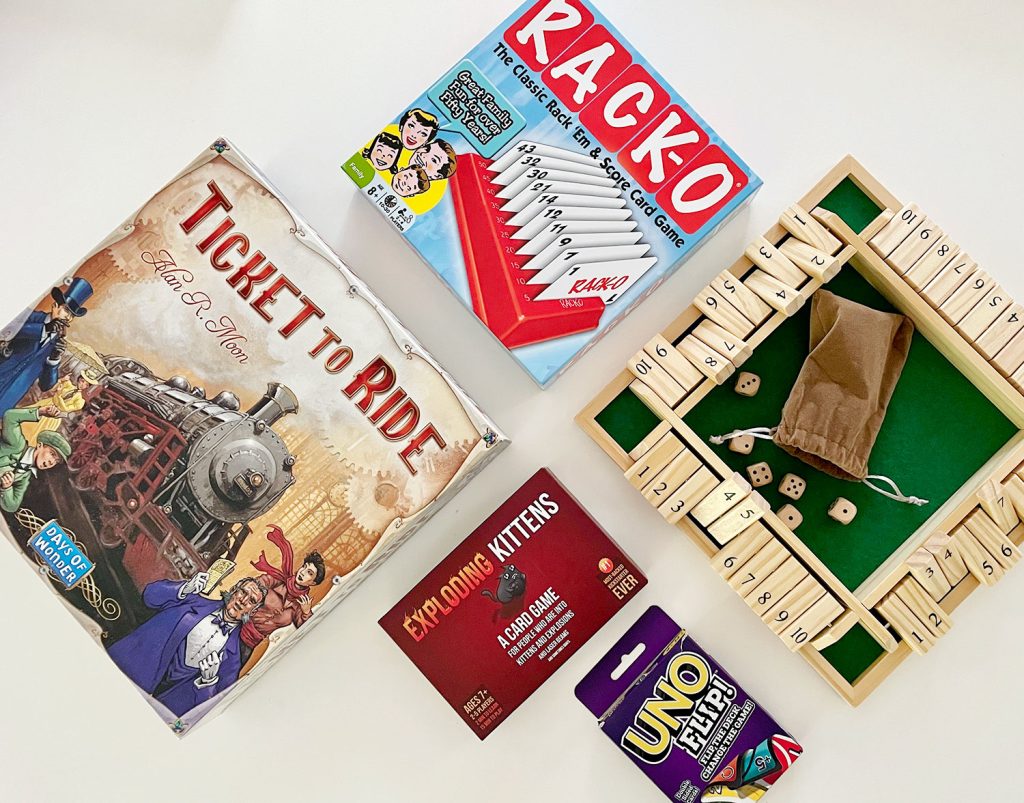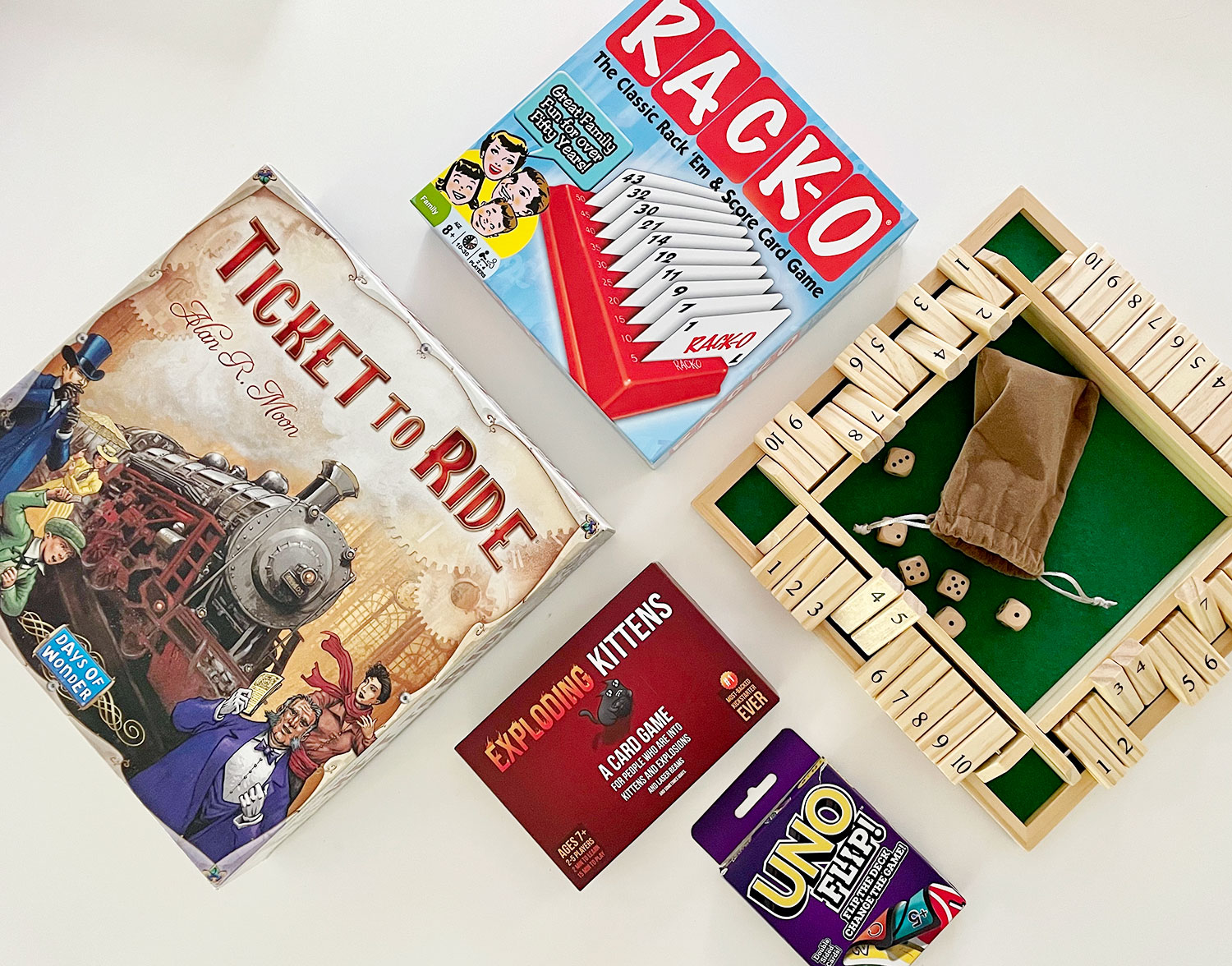 Uno Flip
Uno Flip is a cool twist on the classic Uno game. The cards are double-sided: a standard game on one side, and a dark, higher-stakes incarnation on the other (I.e. Draw 5 instead of Draw 2; Skip Every Player instead of Skip Next Player). We used to have the classic version too, but now only have the Flip version because it's so much more fun (we never grabbed the old version, so we donated it).
Rack-o
Rack-o is an easy game with a simple concept: be the first to put the cards in your rack in numerical order. The catch? You can't rearrange them, you can only swap them out with new cards from the draw pile. It involves a good mix of both luck & strategy, and the plastic rack makes it easy for even small hands to see all of their cards.
Our Favorite Fast-Paced Games
When we're in the mood for something high-energy or quick-to-play, we tend to grab these games. They're great if your family gets bored by traditional board games, or wants something more hands-on to keep kids engaged.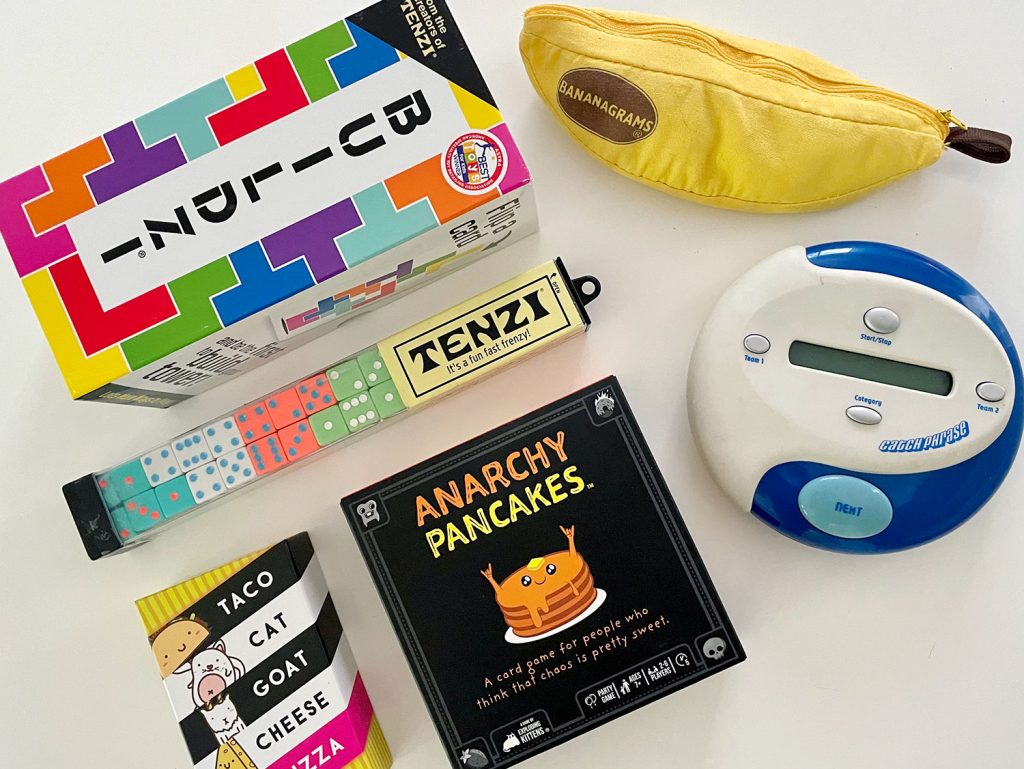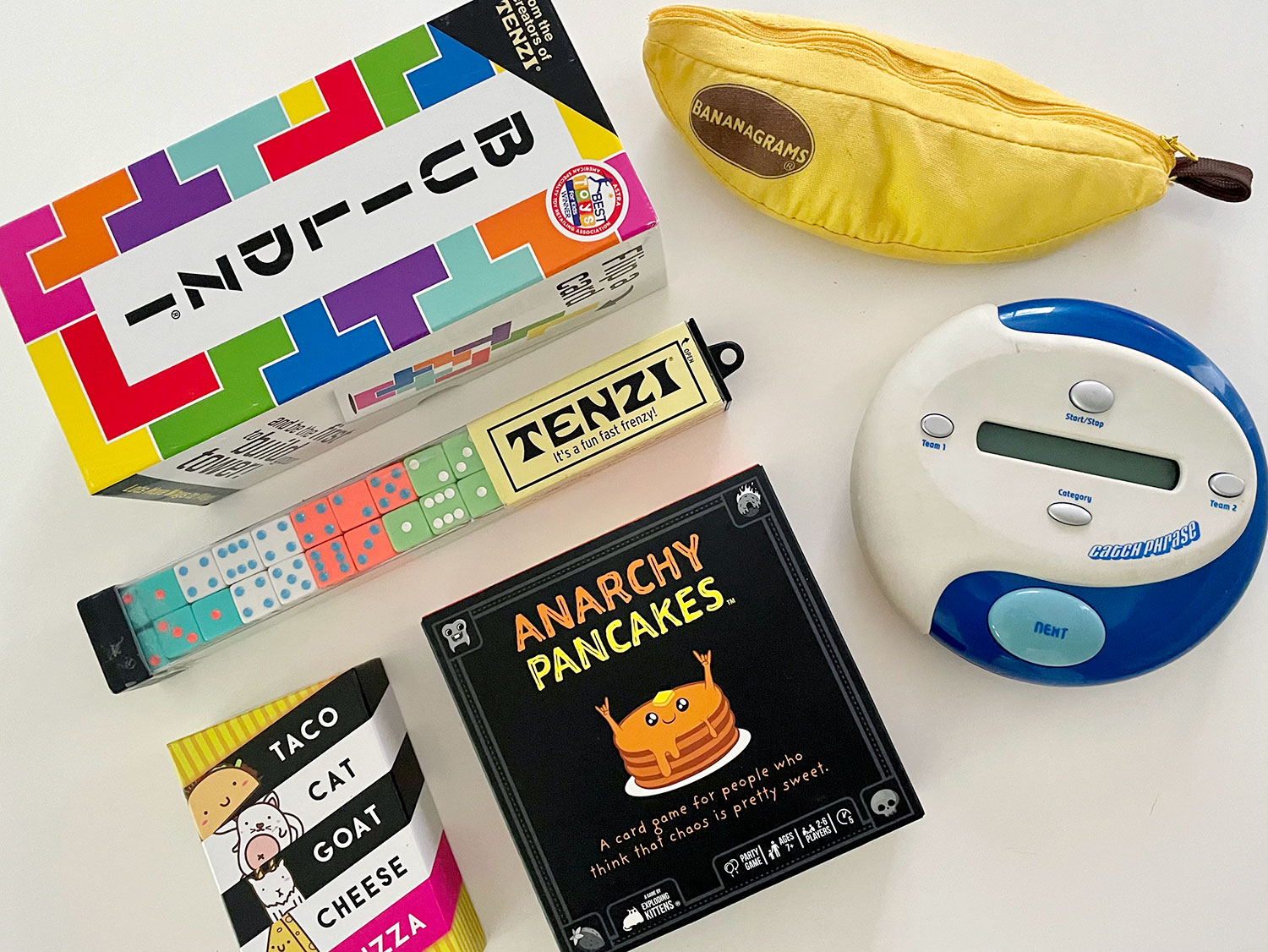 Taco Cat Goat Cheese Pizza
Taco Cat Goat Cheese Pizza sounds weird but guarantees a lot of movement and hilarity. All cards are dealt out and stay face-down in the players' hands. Going in a circle, players put their top card into the center pile and repeat the next word in the game title "Taco, Cat, Goat, Cheese, Pizza." Whenever a card matches the word said aloud (i.e. they play a goat card while saying "Goat") all players slap the pile. The last hand to slap takes the whole pile and the game continues until someone is out of cards.
Tenzi
Tenzi is a fast-paced dice game that has endless variations. Each player gets 10 dice and everyone tries to roll 10 of the same number before their opponents. There are tons of variations you can play, like taking turns rolling or all racing at once. You can all go for the same number or let people choose their own target number once the game starts. We even purchased this deck of 77 Tenzi game ideas. One of our favorites is when players are required to stack their dice in a tower as they go.
Buildzi
Buildzi is from the makers of Tenzi, as you may have guessed. Using colorful plastic Tetris-style blocks, you race to be the first to stack them exactly as shown on one of the game cards. It has several gameplay variations too. We like using the backside of the cards, which removes the color clues, for an added challenge.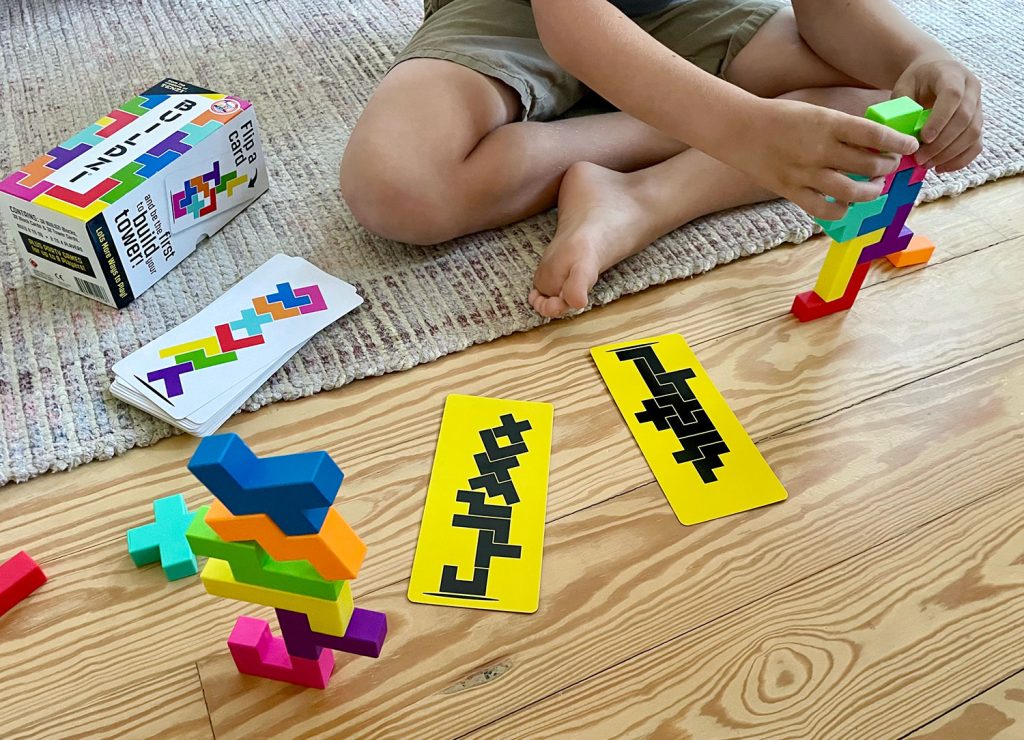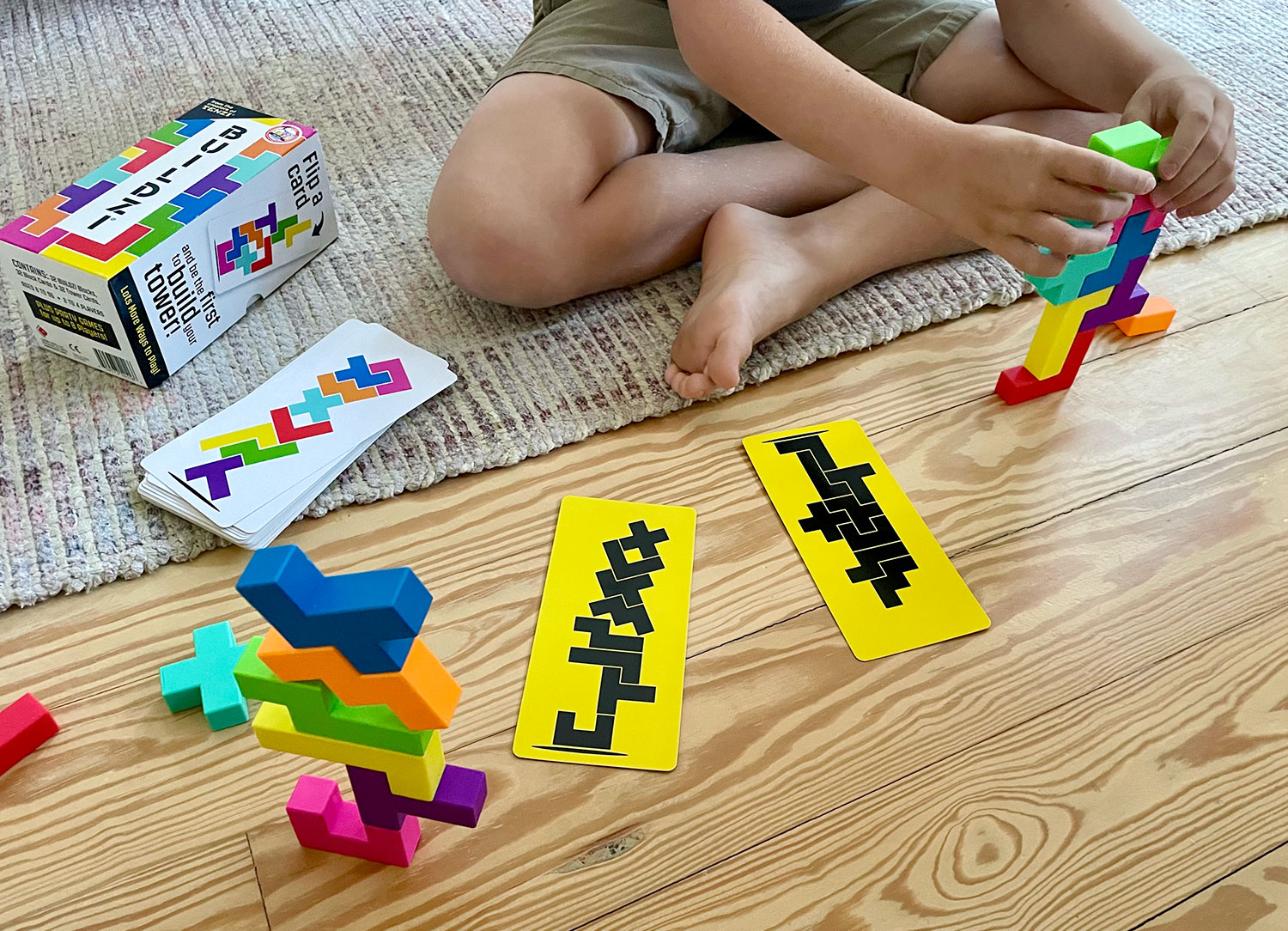 Our Favorite Chill Games
Sometimes we want a low-key game to wind down for the day or to maybe just give plenty of breathers for grabbing a snack, sipping a drink, or letting the dog out when it's not your turn. So these are some that may take longer to play, but aren't as frenzied as the games listed in the previous category.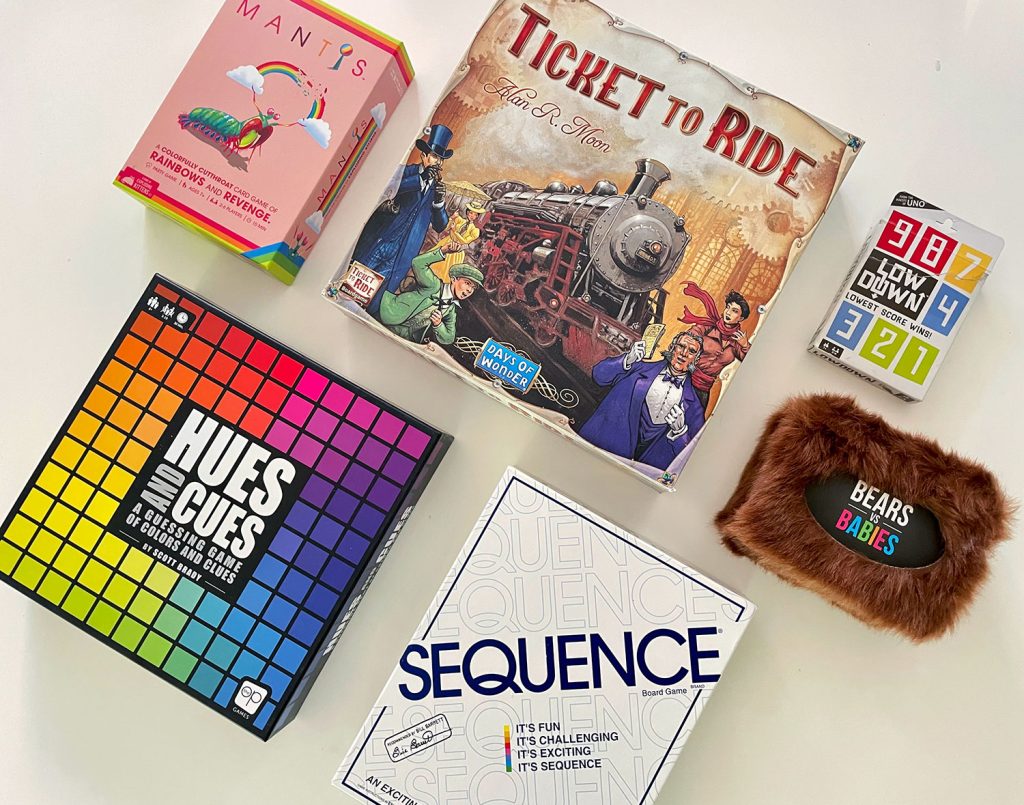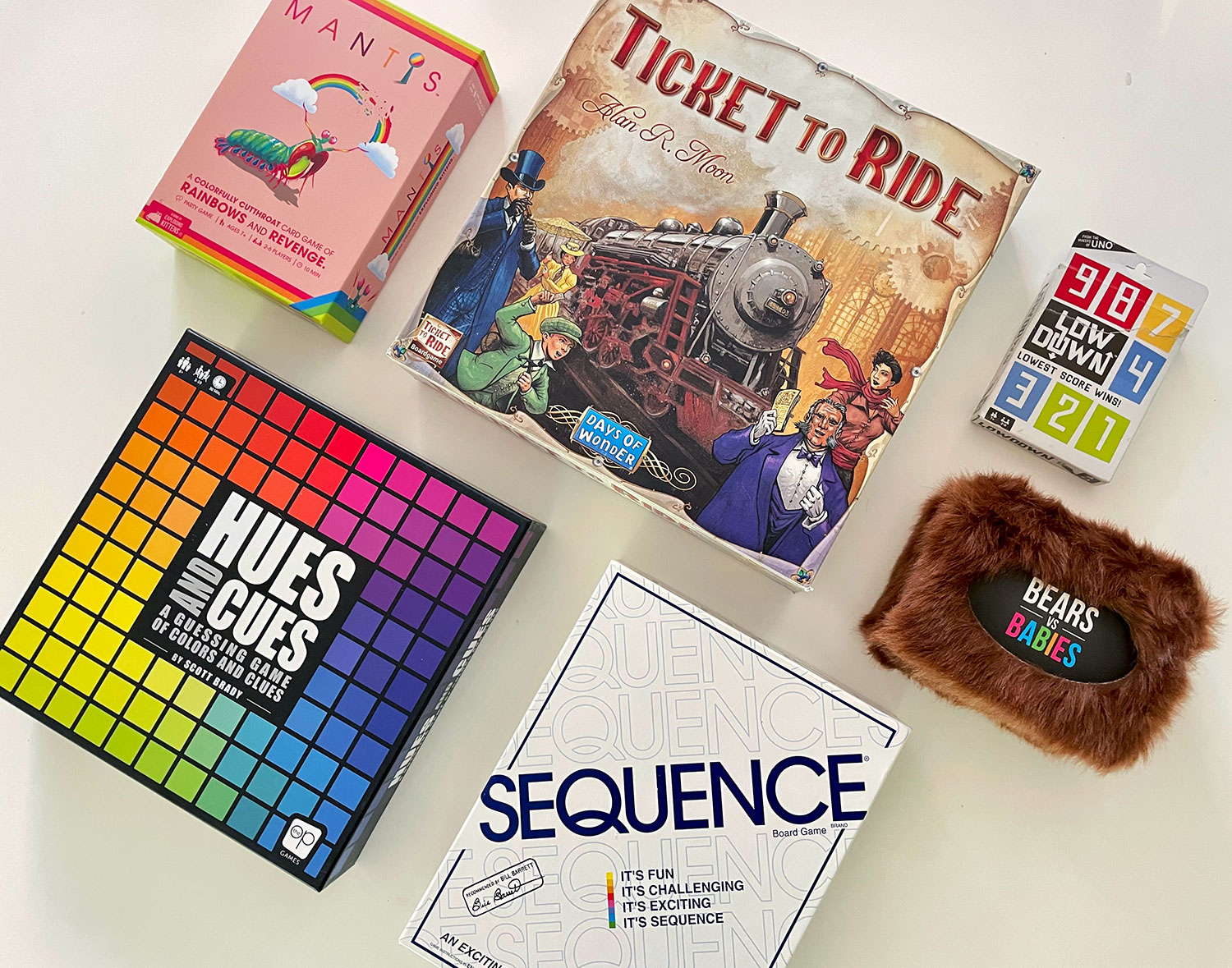 Bears Vs. Babies
Bears Vs. Babies is from the makers of Exploding Kittens and is just as quirky as their other games. It's a creature-building game that tasks you with assembling "bears" (you'll see why I put that in quotes if you play) to take on spontaneous attacks from armies of, you guessed it, babies. There's a small learning curve and you'll need some space to play, but we always have fun when we break it out. It's just so delightfully weird that you can't help but enjoy it.
Mantis
Also from the hilariously inventive minds behind Exploding Kittens, Mantis is a "cutthroat card game of rainbows and revenge." You try to collect mantis shrimp of the same color, stealing from your opponents along the way. The cards are super colorful (I guess mantis shrimp can see a super-wide spectrum of color?) which makes the game both easy on the eyes and fun to play.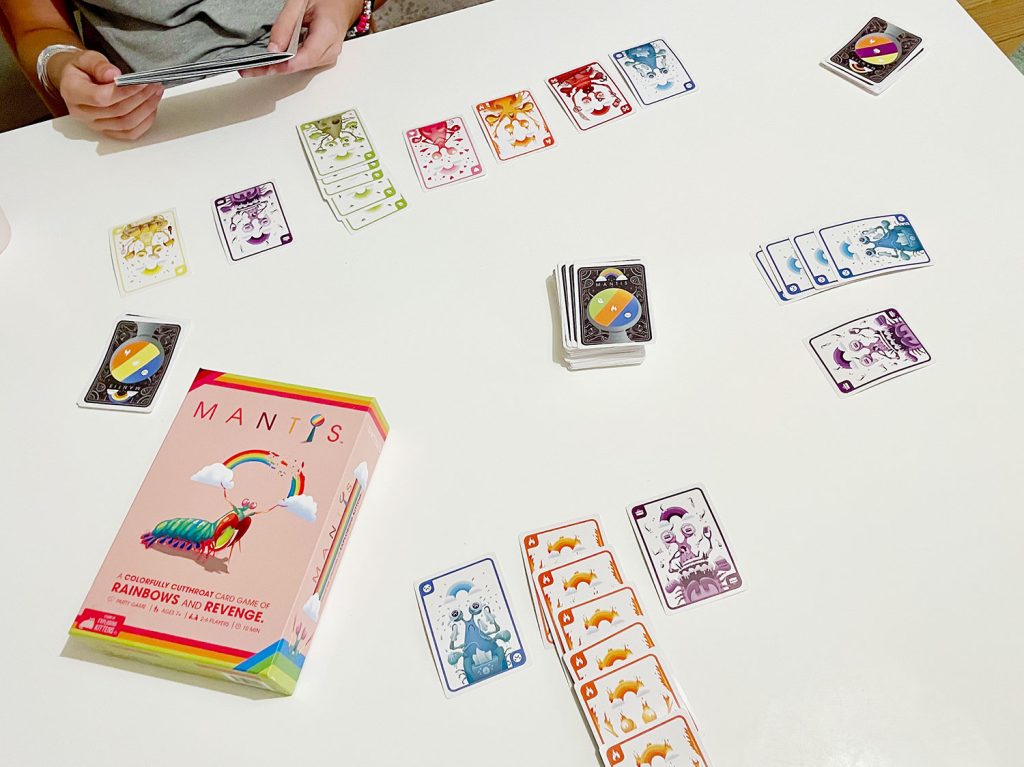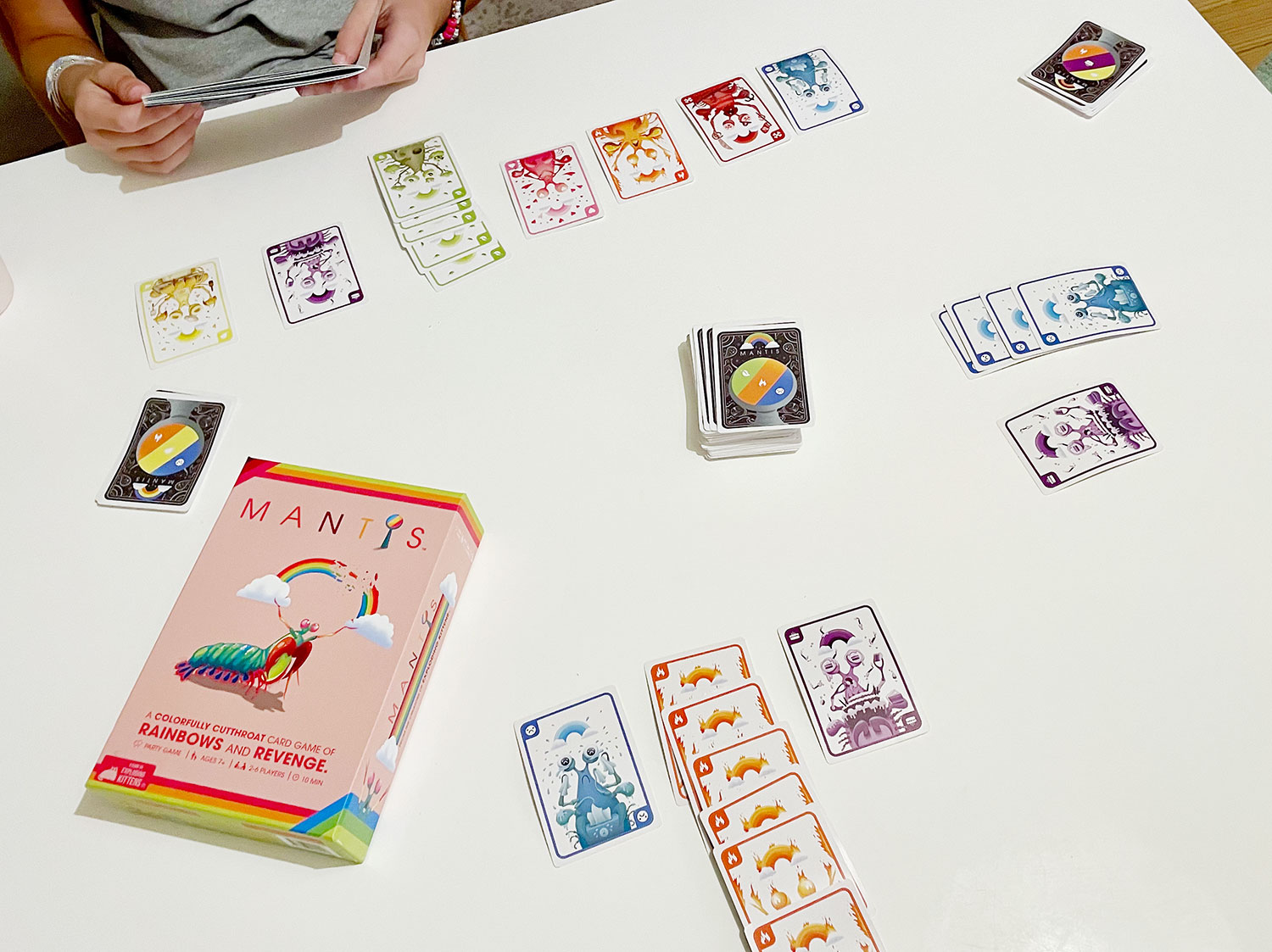 Our Favorite Easy-To-Learn Games
If you hate complicated instructions, these are games whose concept is pretty straightforward and the rules are simple to explain – making them easy to break out and simple to explain to new players.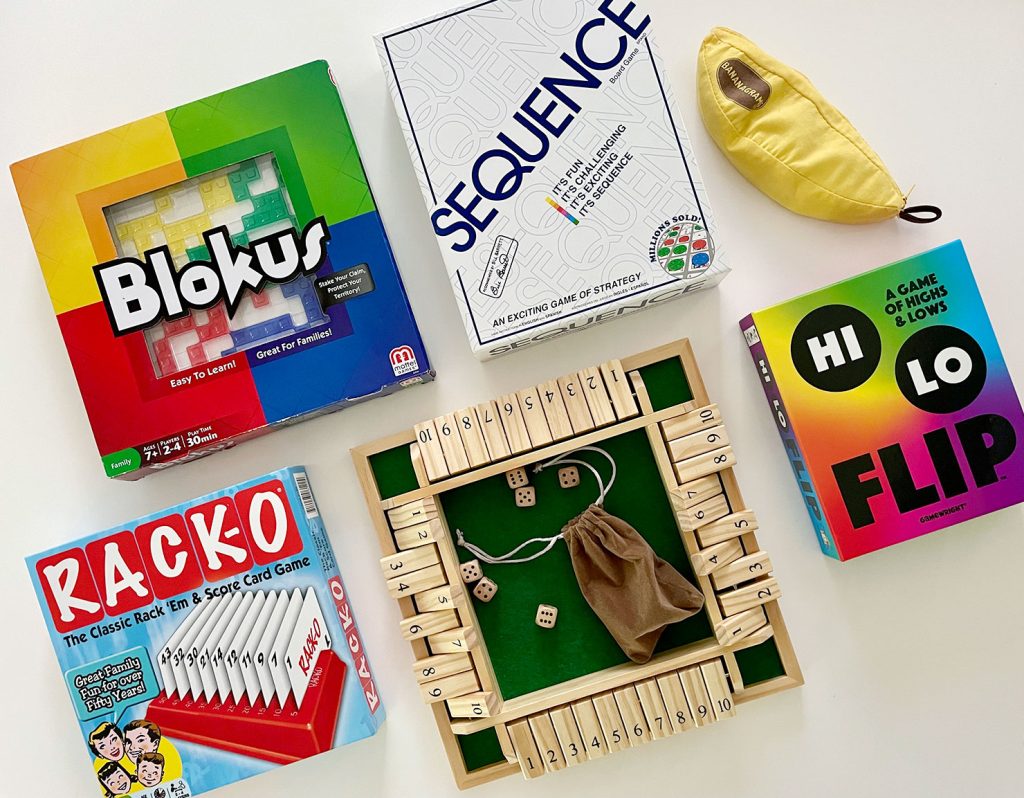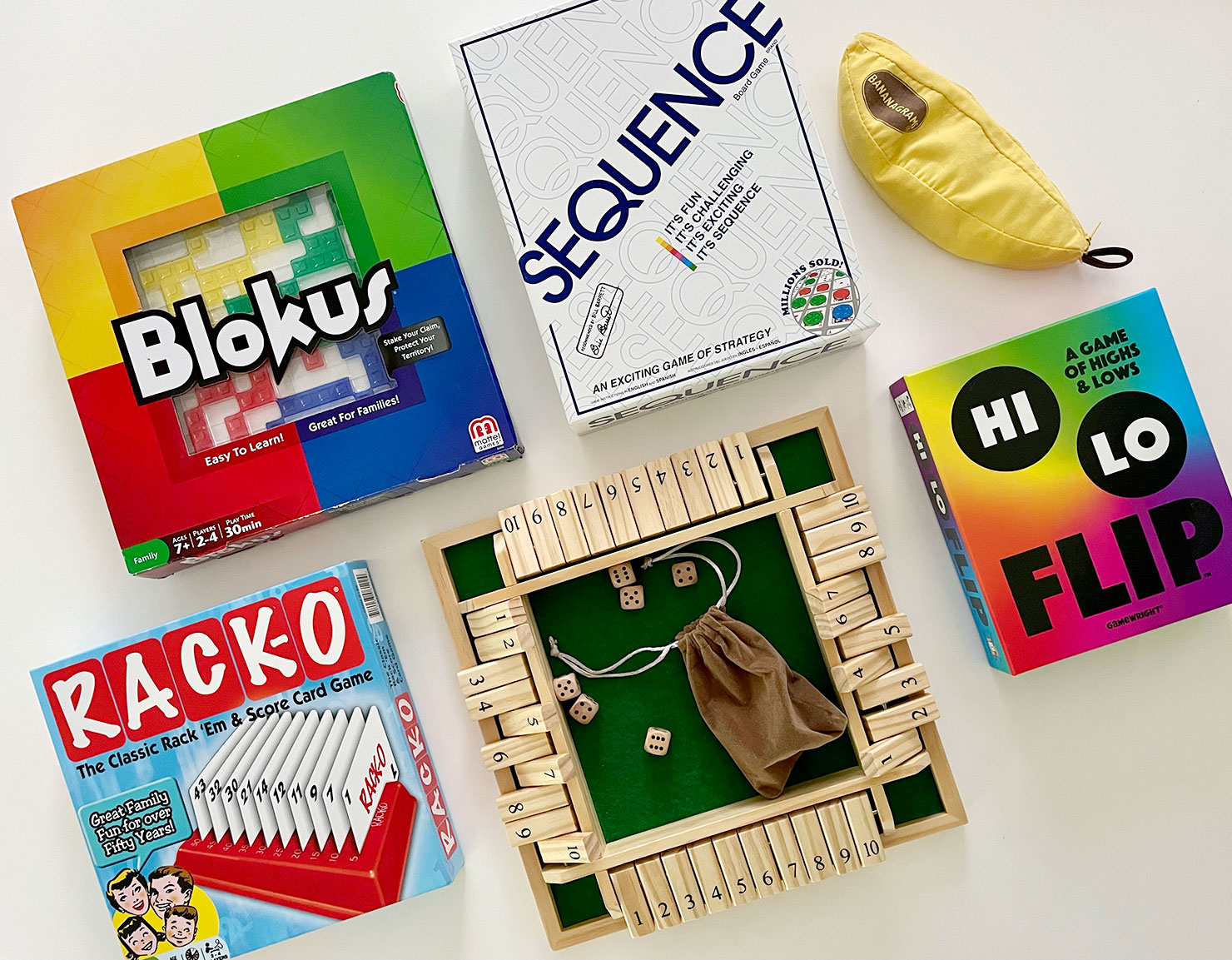 Bananagrams
Everyone probably knows Bananagrams by now, but our youngest is finally getting old enough to hold his own so we've found a renewed love of it. It's like a fast-paced Scrabble where players use letter tiles to build words in that familiar crossword-style arrangement. When one player has used all of their current tiles, everyone draws a new letter and the race to incorporate it into your crossword continues until the draw pile is empty.
Hi-Lo Flip
Hi-Lo Flip goes exactly how it sounds: play a card higher (or lower) than the previous card based on a flipped "Hi / Lo" coin. If you can't play, flip the coin again and – if that doesn't change the direction – draw a new card. If that still doesn't save you, the pile goes to the previous player and you start again. Once someone's fully out of cards, everyone tallies the cards they won.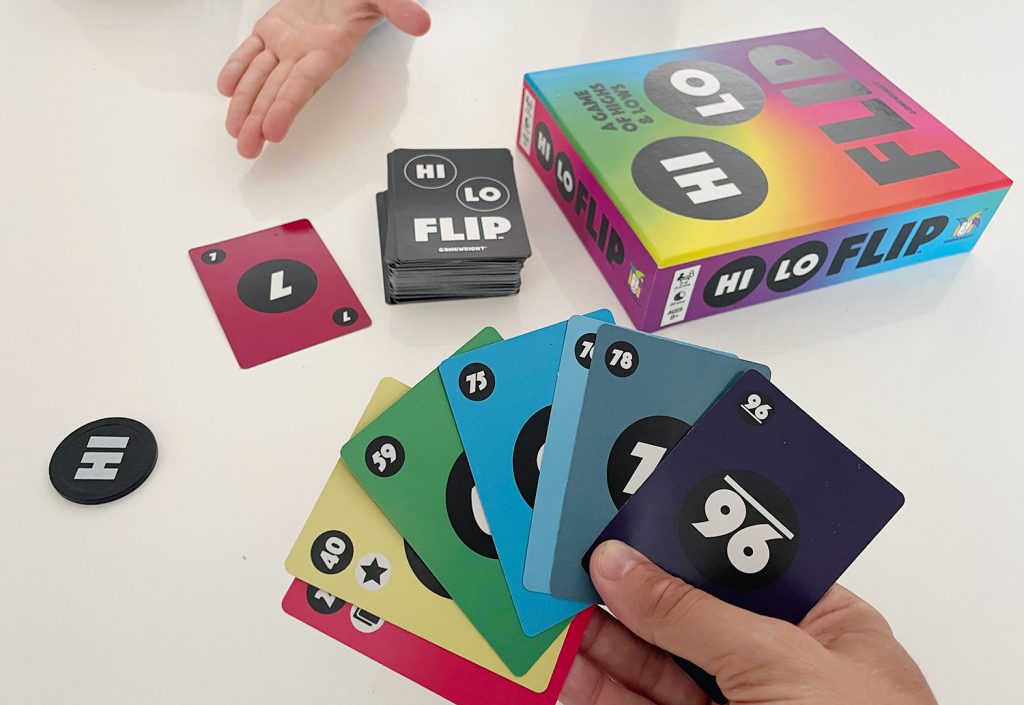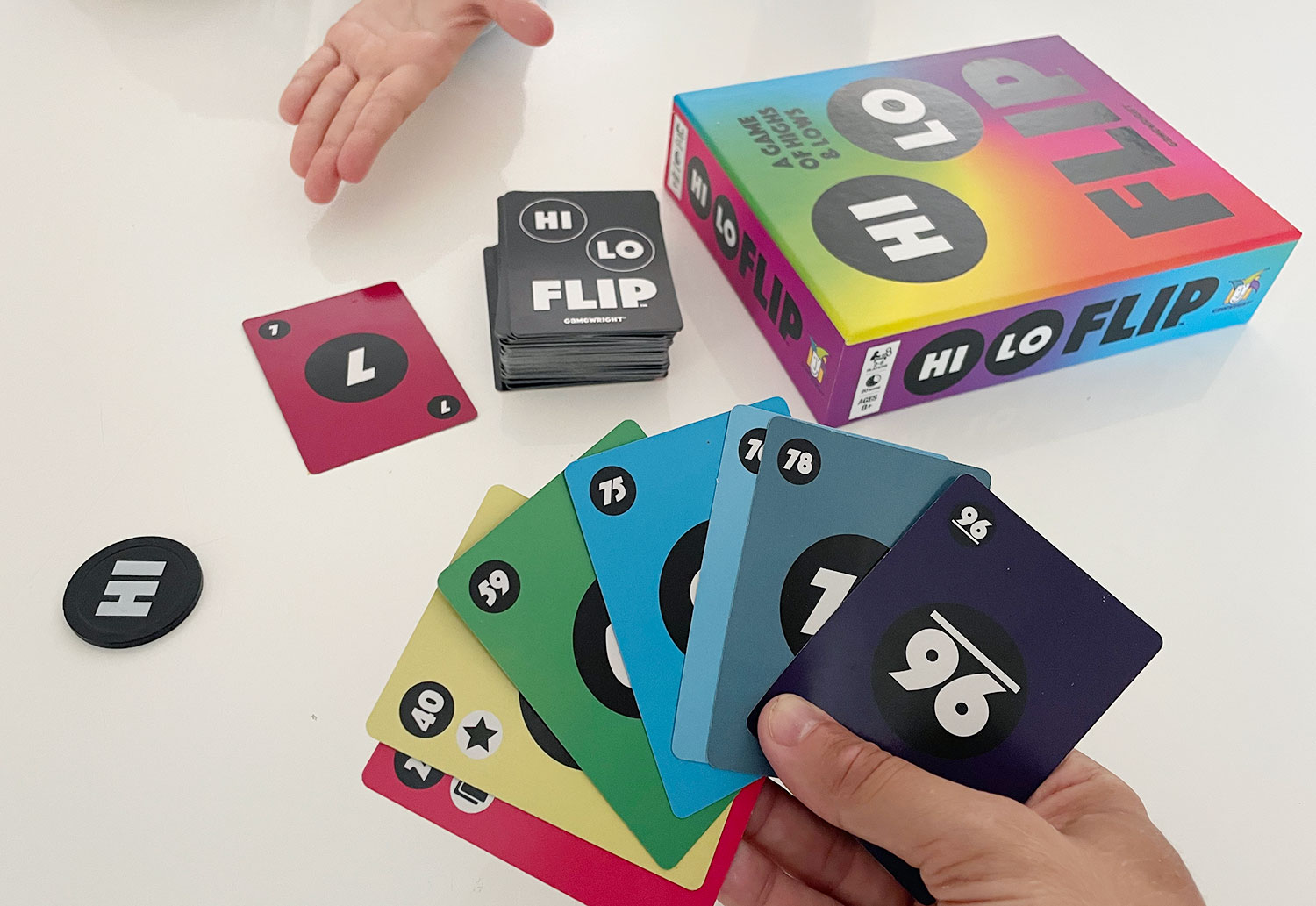 Shut The Box
Sometimes I think of Shut The Box as an abbreviated Yahtzee. Using a pair of dice, you're trying to be the first person to roll every value between 1 and 10. Say you roll a total of 5. You can use that as 1 and 4, 2 and 3, or just 5. But once you flip over a number, you can't use it again, so getting all 10 is more challenging than it seems. Bonus: the wooden game board is very satisfying to play on.
Our Favorite Small Or Travel Games
Living in a small house, we have a default affection for compact games. But these are also easy to throw in a suitcase for a trip, a purse to break out at an outdoor cafe, or even a backpack for bring-a-game-to-school day.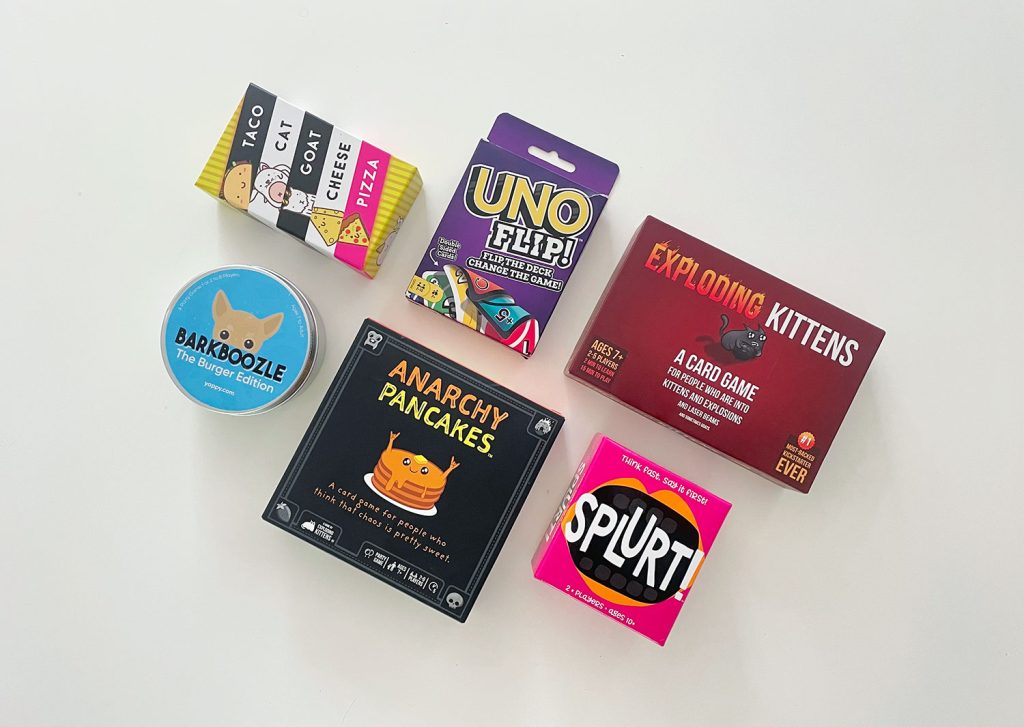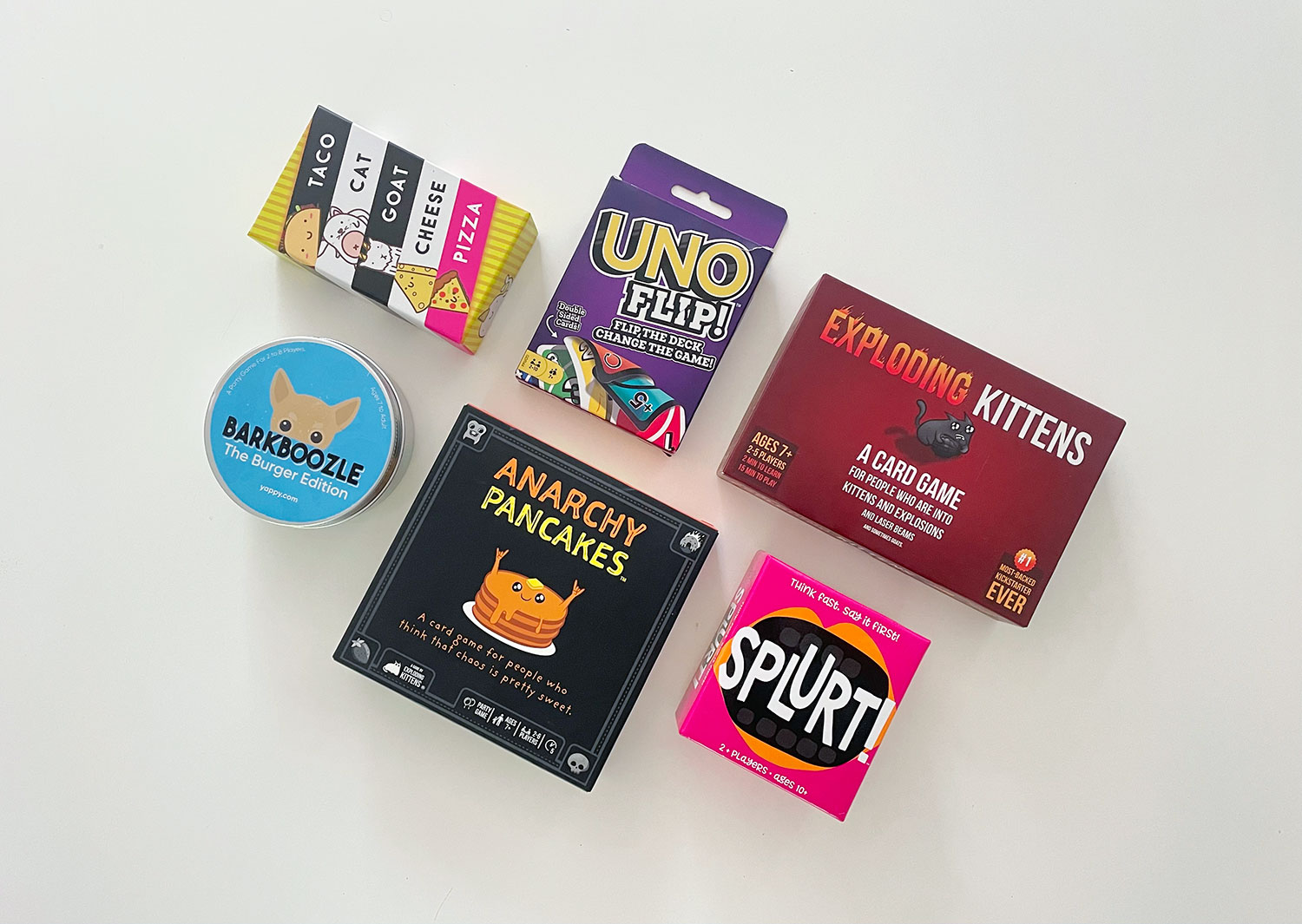 Barkboozle
Barkboozle is actually just a personalized version of Spot It. The rules are exactly the same – be the first to spot the two matching icons on two cards. We purchased this version after our dog Burger died because we could incorporate his likeness into the game itself, which definitely makes us smile. It can be surprisingly challenging, but also quick to play. Don't worry, there's a cat version too.
Anarchy Pancakes
Anarchy Pancakes is another game from the Exploding Kittens folks (can you tell we're fans?) that plays like a more fast-paced cut-throat Barkboozle. It features the same round Spot It-style cards, but each player starts with 7 cards and everyone flips them over at the same time. This kicks off a frenzy of trying to match your cards to those in front of the other players. It's called anarchy for a reason!
Splurt!
Like most of the games in this category, Splurt just uses cards – no board, game pieces, timers, etc. One side of the card lists a category like "Movie Star" or "Sport Or Game," and the other shows a letter prompt, like "Starts with T" or "Contains a Y." Be the first to blurt out (er, splurt out?) an answer and you win that card ("Tom Hanks!" or "Hockey!", respectively). It can be fast-paced and simply shuffling the deck produces whole new combinations of categories & letters to play from.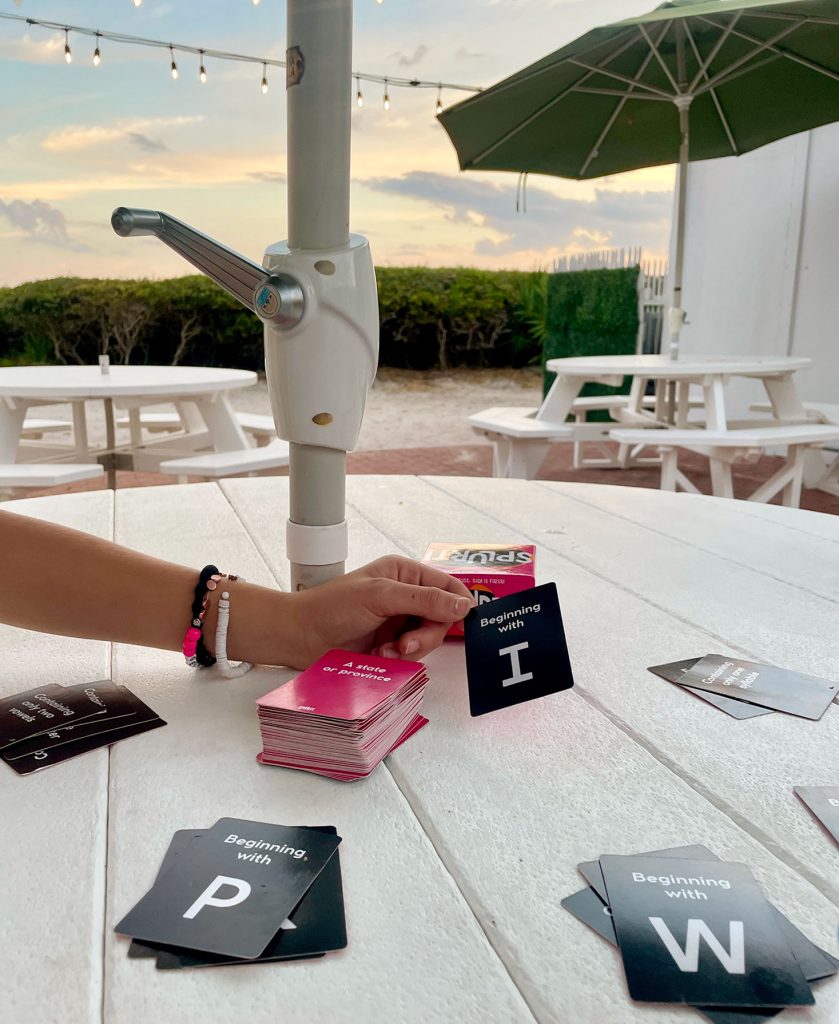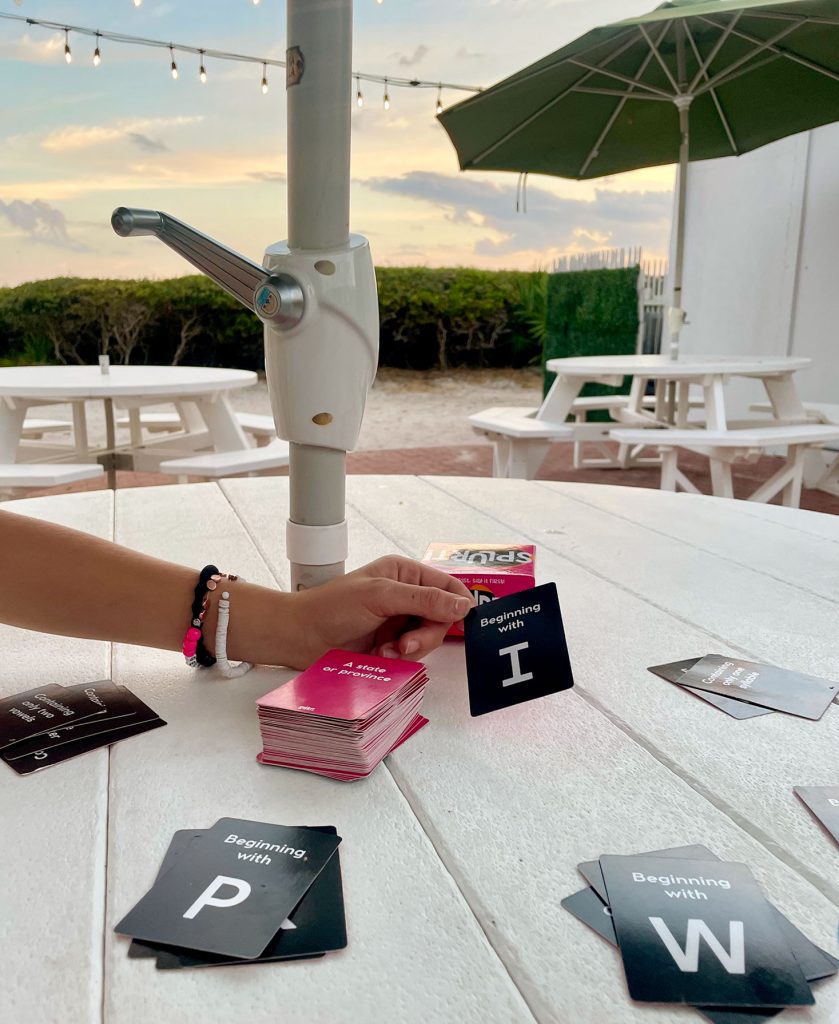 Our Favorite Classic Games
You can probably tell that we favor new and quirky games, which have pushed a lot of classic games out of our rotation. For instance, we recently donated our Monopoly and Sorry games to a neighbor because they were collecting dust in our cabinet. But as you can see in the photo below, we still have a couple in there. This summer we added Clue to our collection after the kids loved playing it with their grandparents. And we still break out a Scrabble set that Sherry and I bought before we got married!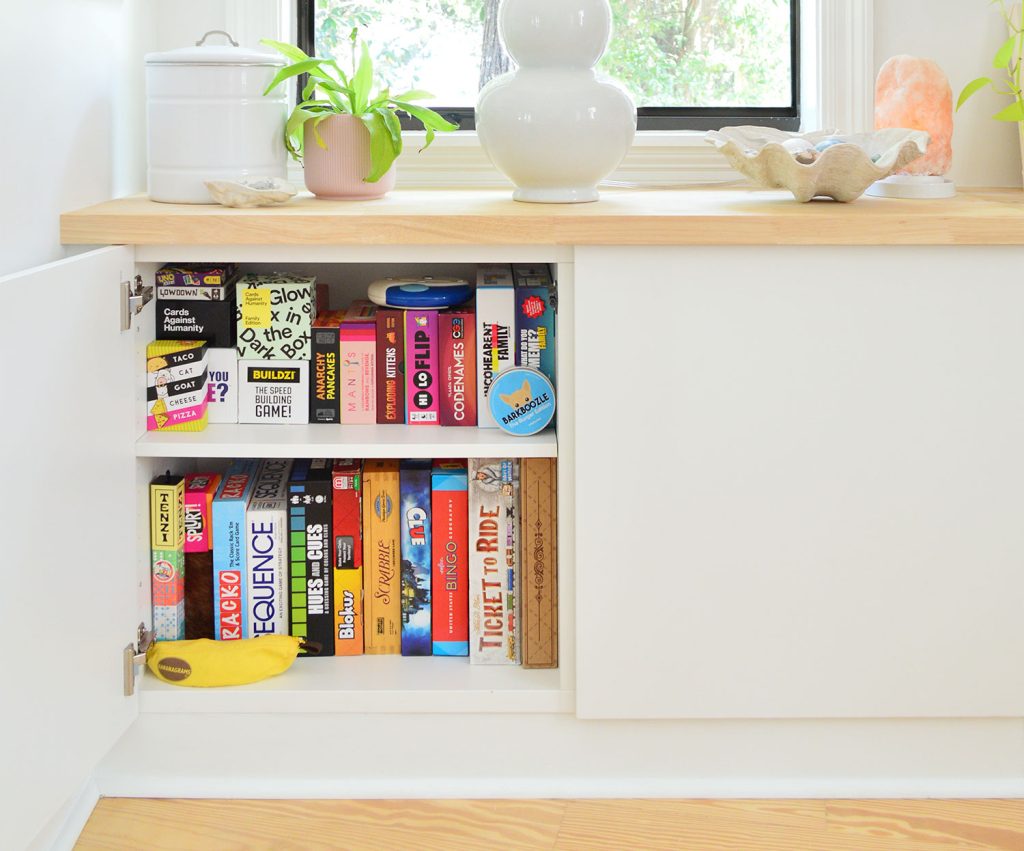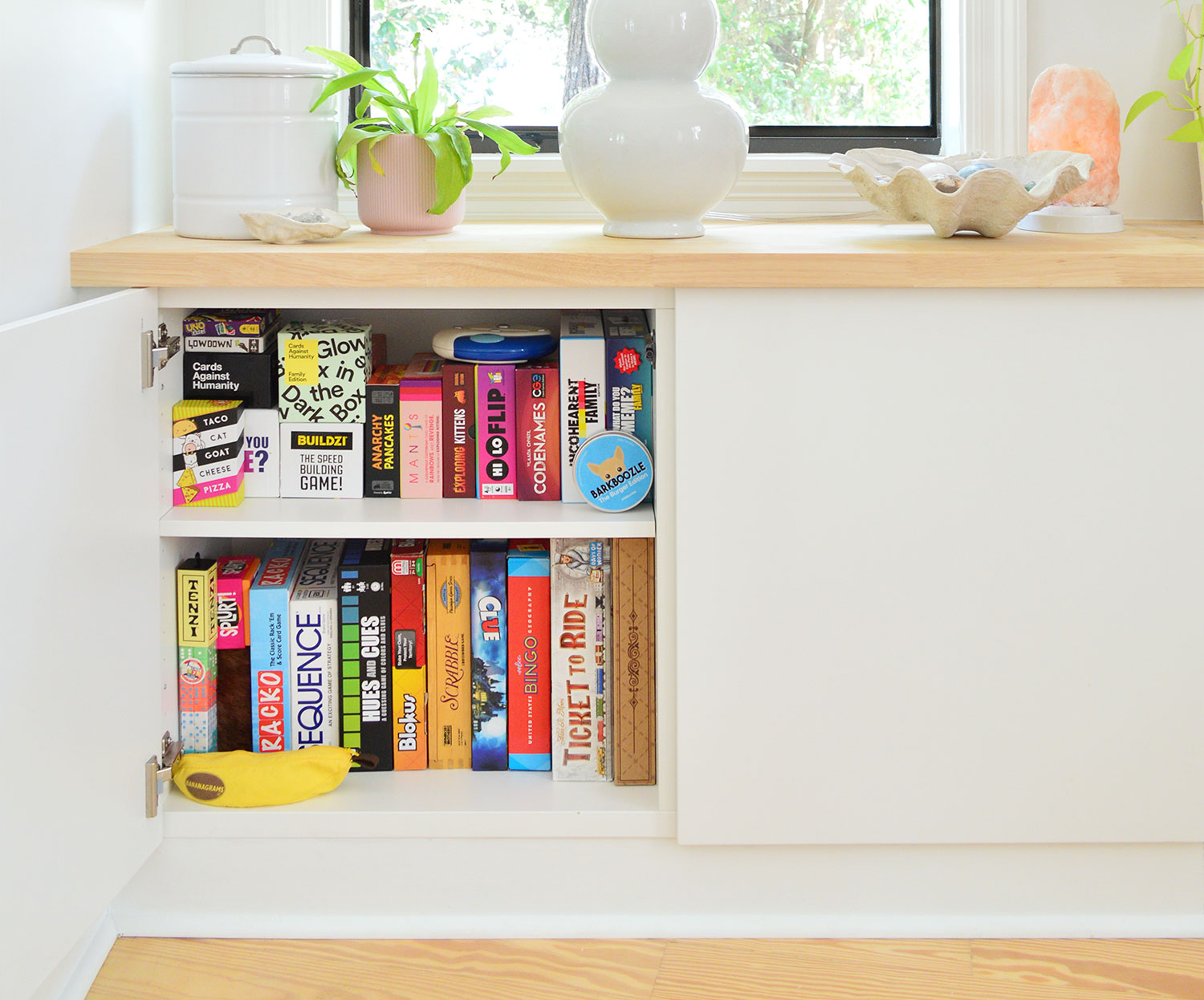 So that's our current list of favorite family board games – although looking at them, very few involve an actual board! We're always on the lookout for new ones (especially our son, he's the biggest game enthusiast of the house) so stay tuned to our Instagram for whatever game might become our current obsession.
*This post contains affiliate links, so we may earn a small commission when you make a purchase through links on our site at no additional cost to you.
More posts from Young House Love